Choosing an Apartment Intercom System
Let me guess, you are likely looking to upgrade an older apartment intercom, to a newer system. The older system either no longer works well, or you are looking to upgrade to the modern video intercom systems. We have put together a buyer's guide to help you understand how to go about purchasing a new intercom for apartments and condos.
Table of contents
Also, read:
Key takeaways from this guide:
Best Apartment Intercom Systems
If you are looking for a list of best intercoms for apartments, you can jump to our comparison blog post, that covers the top smart intercom systems for apartments.
What is an apartment intercom system?
An apartment intercom system allows entry to a visitor to a building. A visitor can come up to the entry system at the main building entrance, select an entry and call a tenant. This sends a buzzer signal to the resident inside the apartment. The resident can pick up the call using an audio phone call, or a video call using a video intercom mobile app. They can communicate with the visitor, and then release and buzz the door remotely.
What is an apartment call box?
Apartment call box is the same as an apartment intercom system. It is commonly called a callbox, since it traditionally connects a visitor to a building resident through a phone call, over a telephone system.
What are video intercom systems?
Video intercoms allow you to talk to the visitor through a video call, instead of a traditional audio call. The video call works like a FaceTime or WhatsApp video call, using a video intercom app. Generally these intercoms have the ability to release the door remotely. You can also check out our guide to best video intercoms for apartments.
How does an intercom work?
An intercom system works by sending a notification from one device to another, which can be picked up as an audio or video call. Wired intercoms work by transmitting a data signal from one device to another through local wires. Wireless intercoms work through telephone lines or internet based servers, to initiate a call, notify the other person and start audio or video call between two people.
How does an intercom work in apartments?
Apartment intercom buzzers work by chiming a buzzer to an apartment and then allowing an audio call between the two parties. They use wired communication techniques like SIP protocol, in order to exchange signals and audio between two ends. If the receiving person clicks the unlock button, it sends another signal to the main intercom unit to unlock the door.
Types of Apartment Intercom Systems
Apartment intercom systems actually come in several forms, and each has their own set of unique capabilities to meet the needs of different multifamily buildings.
1. Wired Apartment Intercoms
Wired intercoms require running a cable from the main entry panel to each apartment unit receiver. There were very popular for smaller condo and apartment buildings. They could have audio or video capabilities.
Much higher upfront cost of install due to all the wiring needed
No recurring cost once installed, which is beneficial
May come with video or audio
You have to be home, and constantly walk over the receiving unit in order to receive the intercom
No ability to give our remote access when you are not home
Cannot generate and give delivery PINs
Very difficult and technically complicated to program. Often requires paying a security company to makes change every time someone moves in
2. Wireless Intercom Systems
Wireless intercom systems have been the real game changer in the world of modern access.
Instead of requiring a wall mount station inside the apartment unit and outside the front door, wireless intercom systems offer the ability for tenants to receive a visitor call to their mobile phone or other device that is compatible with the system's software. Tenants are no longer tied to a wired intercom station inside their apartment – they are able to receive visitor calls and grant access from anywhere. There are two different ways in which to do this: telephone entry system and video intercom systems.
3. Telephone Entry System
Telephone entry systems like Doorking and Linear are very popular over the last decade. Most of you might be familiar with these door entry callboxes. You can program a list of phone numbers in the callbox, and connect it to a traditional phone line or cellular VOIP system (those cost extra per month).
Reliable and popular technology over the last 20 years
Audio calls can be received to smart phone and regular phones
Ability to release the door lock pressing a number – often 9
Major known security issues – e.g. you can buy a key on amazon to open the box and release doors
Lack of video allows package thieves to now pretend to be delivery drivers and get buzzed in
Very difficult to program by condo management and property management – requires a ton of technical training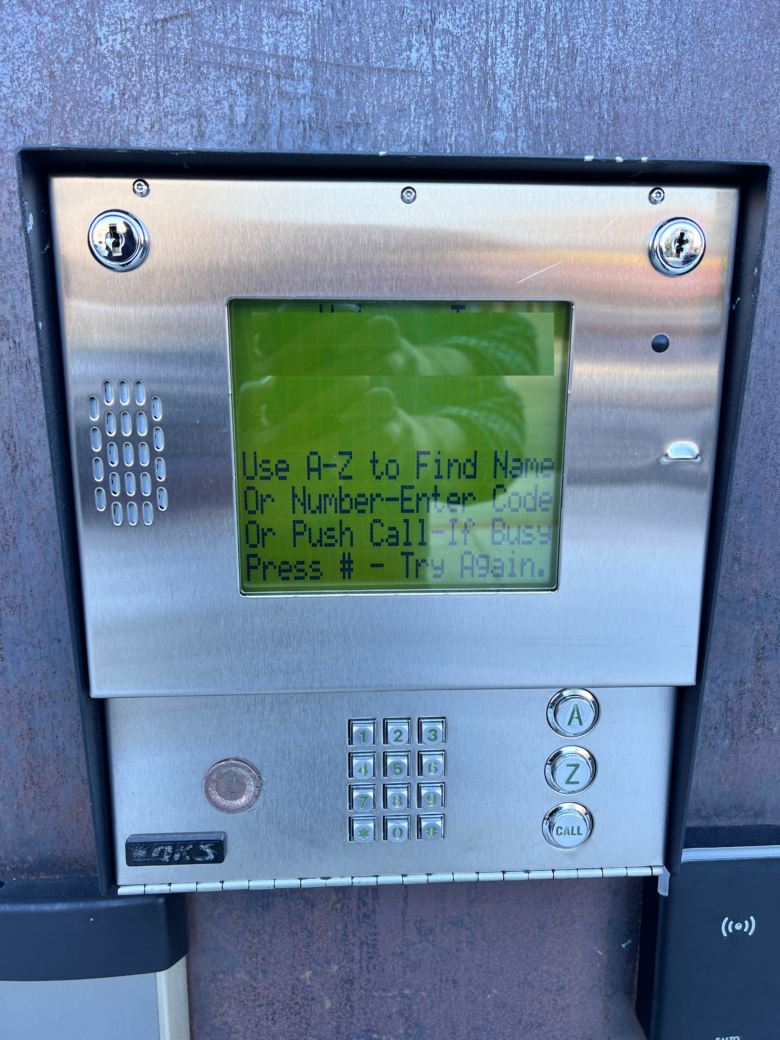 4. Video Intercom Systems for Apartments
Video intercoms make video calls between visitors and residents. Smart intercom systems support option for telephone calls using VOIP, to support older or non tech savvy residents. Most buildings are upgrading to modern video intercom systems. Video intercoms used to be very expensive. But they are getting cheaper than telephone entry systems, while offering modern features.
See how Swiftlane video intercom works:
Why video intercoms are getting cheaper than callboxes:
They make wireless calls using the building internet instead of telephone lines
Telecom companies are raising phone line prices since they are shutting that business segment
Video intercoms often can be programmed with a web based interface easily, without paying security companies to come over and update the tenant directory
They require far less maintenance since they can receive software updates automatically through the internet connection
Benefits of Apartment Intercom Systems
Apartment intercoms are convenient for multifamily tenants and their guests, but they go far beyond just convenience. A building intercom system offers a layer of security to access management for the best protection of your biggest investment.
Secure delivery management is becoming more than just a building amenity. With the increasing rate of e-commerce, and the ability to have more and more essentials and necessities delivered right to your door, securing packages and deliveries is a must. With a building intercom system, couriers can easily be granted building access from either a call to the front desk staff or directly to the tenant.
Securely granting access to guests and visitors is not only convenient to the tenant, but also the other occupants in the building. Tenants have peace of mind knowing any other occupant in the building has been authorized.
Convenience for tenants enhances a building's reputation and boost tenant retention and acquisition.
Reducing operational overhead is made easy with building intercom systems because it seamlessly supports front desk staff and enables frictionless access to other operational or maintenance staff.
Business continuity is another unassuming benefit of building intercom. But, should an apartment need to be seen or toured in order to fill a vacancy, self-guided, contactless apartment tours can be facilitated with remote unlock features.
Top 10 Apartment Intercom Features to Consider
1. Apartment Intercom System with Door Release
An apartment intercom system with door release allows tenants and other authorized building staff to conveniently grant access to visitors with the click of a button. This is one of the primary features of any modern apartment intercom. By clicking a button, the system triggers the door unlock which is a secure and convenient way to control who is coming in and out of the apartment building and when.
A door intercom release can be triggered between electronic strikes or magnetic locks. And, the type of hardware for a system with door release function can also be either wired or wireless.
2. Integration
Not all apartment intercom systems come with access control. If that is the case, you'll need to explore the integration options that the system offers.
Apartment intercom can also integrate with visitor management software, property management software, and other proptech solutions. But again, it's important to identify exactly which ones as it does vary from system to system.
3. Hardware
Hardware is one of the first major hoops to jump through when buying a front door intercom system for apartment buildings. Different costs are associated with both wired and wireless systems.
Wired intercom systems need to assess cabling and installation. Most systems require a power unit, internet connectivity wire, and ethernet connection. Wired systems naturally have higher reliability from direct connectivity. This results in higher quality video calling, as well.
Wireless intercom systems need to access reliability of connectivity and potential environmental interference depending on where the hardware is mounted. Less invasive installation from wireless intercom systems is beneficial if there is not major risk of signal interference.
4. Front Desk Intercom vs Multi-Tenant Intercom
Front desk intercom essentially refers to an apartment intercom system with capability to call the front desk only. It will have a single button to reach a designated person or station.
Multi-tenant intercom will have more than just a front desk calling feature. Multi-tenant video intercom systems will provide the ability to pick a tenant from a listing, and then dial the tenant directly.
Intercom directories will vary in style. They can take the form of a paper print-out posted on a designated space on the hardware or – with more modern intercom systems – a screen will display a list of tenants. Digital directories are becoming more and more technologically advanced, taking the form of touchscreens as opposed to keypads.
Apartment intercom system with door release, as we mentioned as our #1 buying consideration, refers to an intercom system that will allow a tenant or front desk staff to unlock the door and allow the visitor to gain access to the building either from an in-unit station or via remote application. This function is available for both front desk and multi-tenant intercom systems. An apartment intercom system with door release is becoming an important amenity for renters, which should be taken into consideration.
5. Video Intercom
Some building intercom systems only offer audio functionality for communication between visitors. So, it's important to review the video functionality of the intercom system. Many systems now have video built into the intercom system. If not, it may offer an integration.
One- versus Two-Way Video Intercom
After deciding on video intercom functionality, there is yet another decision to make. Video can function for only the tenant to see and verify the visitor at the door, or the intercom can work both ways.
Two-way video intercom – as opposed to one-way – allows callers to communicate back and forth with the person they've called. Both one-way and two-way intercom provide visual verification of the visitor, however, two-way video intercom lets the tenant interact with their visitor before gaining access.
The experience a visitor has at the front door plays an important role in their perception of the apartment building. First impressions contribute heavily to overall building image which is a top facility manager concern.
6. Managing Multiple Access Points
Whether it's managing multiple entryways in one building or managing multiple buildings, facility managers are always juggling different access points for tenants, visitors, contractors, cleaning staff, etc.
The number of building entrances that need to be secured is an important consideration when rolling out any door intercom system. Central management of all access points is going to be a must the more there are. This is also important for business consistency and streamlining operations.
To this point, it will also be important to assess and decide on multiple dashboard or account administrators. The capability to have more than one system administrator will depend on the system.
7. Installation Costs
Though we haven't outrightly mentioned it yet, you knew it was coming. Of course, with any apartment intercom system, cost is a factor. And installation will be the biggest one.
Intercom systems come with wildly varying set of features and ongoing benefits. This is reflective of the difference in price between various systems. Ensure that there is a good value being generated at the price you are paying for an intercom system. Most modern intercom systems cost between $1,500-$6,000 for the hardware, plus installation and service fees.
8. Ongoing Service Fees
Typically, wired intercom systems only required the upfront installation cost (which includes the hardware and service fee) without any additional payments. With advances in technology, intercom systems are shying away from this model, however, and adopting a subscription-based service for their apartment intercom.
Upfront Cost
Apartment intercom systems with no backend or platform management do not require any further payment beyond hardware and installation*. While there are benefits to this intercom model, it is slowly phasing out as more and more systems are offering cloud-based options.
*It is important to note that beyond hardware and installation – while there is no fixed, accruing cost – this operation model does require additional costs for system maintenance, updates and on-site management by someone familiar with the system.
Subscription Fee
Apartment intercom systems that use a subscription-based model differ in two ways:
Their software is managed in the cloud, as opposed to on-site; and
Upfront costs are significantly lower, but there is a fixed, monthly cost (typically per user).
While the subscription-based intercom model may not be for everyone, there is something to be said about the reasons that facility managers are opting for it over legacy systems:
Low installation cost creates accessibility and affordability
Automatic software updates from the cloud
Fixed cost-per-user is typically only $3 – $5
9. Design and Aesthetics
Another important consideration is the actual aesthetics of the hardware. Like we've said before, first impressions are important for building image. It's important that the hardware meet the aesthetic requirements of the building for enhanced tenant retention and guest experience.
According to Forbes, we are currently on the cusp of seeing the highest rate of Gen Z tenants, and, according to Globe St., the amenities they are looking for are wildly different than the generations before them. Having a clean design with intuitive technology will go a long way in tenant retention and occupancy rates.
10. Access Control
Traditionally, apartments would use key cards and fobs for their access control system. Apartment building are moving away from key card systems and replace them with mobile credentials.
Mobile access control for apartment buildings have the benefit of coming with a built-in video intercom system or the capacity for integration with visitor management software. Below, we'll go further into detail of the considerations associated with the access control component of an intercom system for apartments.
Benefits of Integrated Access Control and Intercom
Access control is an important component in buying a building intercom system, particularly for apartments and multifamily buildings. Below are just a few of the benefits of having an integrated access control and intercom system, including detailed considerations of when it is needed.
Holistic security strategy
Comprehensive system management
Analytics and reporting
Compliance management
Consistency across systems for credential management
Secure delivery management
Additional layer of security and thus peace of mind for tenants
In addition to operational benefits, access control and video intercom also offer the option to integrate other functions for a comprehensive security solution.
Parking Gate Access: Parking is an extension of a building's access control system. Having gate access functionality further curates a holistic access control experience. Check with your vendor if they support gate opening functionality for parking gates.
Delivery Room Access: Porch piracy and package theft is one of the top nuisance for apartment buildings, equally important to preventing risks of break-ins. Access control with built in intercom can issue recurring or one-time visitor access for deliveries. Delivery management will be a big part of apartment access control strategy, and comprehensive intercom systems alleviate the need find an independent solution.
Access Control Credentials: Access control comes in many shapes and sizes. Assessing tenant culture and needs will help determine which form of access credentials will be best for each individual building:

Metal keys: Oldest and mostly widely used form access control still. Metal keys with a tumbler lock work reliably. In apartment buildings, however, metal keys are a major overhead and security risk. Changing locks and keys not only when tenants move out, but if a tenant loses their key is a cost intensive and time consuming venture. Metal keys are easily copied at hardware stores, as well, which is a security risk for all tenants.
Key Cards and Fobs: Commonly used to improve security and reduce ongoing re-keying costs and operational manual costs. They provide seamless access and ability to grant/revoke access easily, but they do have their drawbacks. Read more on the drawbacks of key card systems.
Pin Pads: Also commonly used, pin pads provide a convenient form of access. Unique pins are great for security, but shared pins suffer from security risks. Battery operated pin pad locks end up having their pin number shared by every package and food delivery person over time. Ensure that the system provides unique pins and one time use pins.
Mobile App Access: Mobile access has really evolved as a form of highly adopted access due to ubiquity of phones and convenience of not keeping track of any other access token. Mobile access has become increasing critical post COVID-19 as you avoid touching cards and pin pads, and also giving out credentials remotely without requiring in person exchange of keys.
Biometrics/Facial Recognition Access Control: Facial recognition access control systems provide a completely groundbreaking, future proof and pandemic proof experience for access control, via simply your face. The benefit of a modern system like this is a completely touchless access control experience for apartments.
18 Problems Apartment Intercom Should Solve
1. Contactless, Self-Guided Apartment Touring
Showing an apartment to a prospective tenant and ultimately securing a lease contract requires scheduling a showing, communication with the leasing office, and performing a tour. This process takes time and effort on behalf of the building staff and prospective tenants. Apartment building with video intercom simplifies that process by providing a solution that allows prospects to gain scheduled, restricted access for a self-guided tour. Single-use PIN codes can be scheduled for specific showing times and applied to a restricted number of access points throughout the building. These can then be distributed to prospective tenants to conduct a self-guided tour. This process promotes business continuity for the property management company by facilitating faster leasing, maximizing staff efficiency, and giving prospective tenants the most flexible showing solution.
READ MORE: Offer Contactless Tours With Swiftlane
2. Stop Package Theft
Package theft has quickly escalated due to heavy reliance on and rapid growth of ecommerce and online shopping. Package lockers are no longer a viable solution as the number of package outweighs the number of lockers. And package rooms are also overcrowded, unorganized, and not properly monitored. Apartment intercom systems function as a complete package management solution:
Video Intercom Calling: Residents do not always initiate the packages that are delivered to them. And when they don't have the opportunity to provide their own delivery instructions, delivery couriers can use the apartment intercom to get in touch the tenant via video intercom. The tenant can receive the call remotely, visually verify the courier, and grant access so the delivery can be securely made.
Singe-Use PIN Codes: Deliveries scheduled or initiated by residents have the option to provide special delivery instructions to couriers. Residents can use the apartment intercom interface to generate a unique single-use PIN code that can be input into these instructions for seamless courier access on the day of delivery.
Multi-Use PIN Codes: In today's world of online ordering, delivery personnel make deliveries to apartment buildings every day. Multi-use PIN codes can be generated and issued by admins to frequent couriers like FedEx, USPS, UPS, Amazon, etc. for seamless, secure access for daily deliveries. These PIN codes can be scheduled to grant access during specific times during the day, during certain days only, or indefinitely. PIN codes can also be programmed to grant access to more than just the front entrance, so that packages can be securely dropped off in a locked package room.
READ MORE: Preventing Porch Pirates and Package Theft
3. Prevent Break-Ins
Apartment buildings are an extension of someone's home. Apartment intercoms should not only provide a convenient and flexible visitor management solution for buildings; it also needs to close any gaps in security to prevent break-ins and theft. As a complete common area security solution, apartment intercoms provide secure access to more than just the front entrance. These solutions should manage parking garage access, bike rooms, storage lockers, indoor and outdoor common areas, business centers, gyms, and other amenities under a single platform.
4. Flexible Access From Anywhere
Tenants want discretion over the access that they can grant their visitors. They do not want to be tied to a wall-mounted apartment buzzer that only allows them to grant access to visitors from their apartments. Modern apartment intercom systems extend physical security to anywhere the tenant has access to their smartphone. Visitors can make video intercom calls to residents and any door can be unlocked after picking up that call via mobile app.
5. No More Sharing Visitor PINs
The more visitors that have access to a PIN code, the less secure an apartment building is for everyone. Apartment intercom allows tenants to generate unique PIN codes to each individual visitors. A dog walker can be issued a different code than a visiting relative. And that relative will have a different code from a friend.
6. Seamless Access for Family and Friends
With a modern apartment intercom, tenants can issue secure PIN codes to frequent visitors like family and friends through the mobile app. PIN codes are unique to each visitor and can be managed by tenants from within the mobile app.
7. Complete Common Area Security
Tenants no longer want to carry several keys for several access points throughout their apartment building's common areas. They want quite the opposite.
Complete common area security grants tenants access throughout the apartment building with the least amount of access tokens (keys, fobs, key cards, garage door openers) possible. An apartment intercom system will do exactly that. Any door or access point can be unlocked with mobile credentials. Even without a smartphone, tenants can use their unique, user-generated PIN codes to get back into the apartment building.
8. Fear of Lockout
Lockouts are a pain, and no tenant wants to rely on the leasing office or building staff for something as important as access to their home. Leasing offices are only open so often. And rarely is there apartment building staff on site during the lockouts that really matter, which are later at night or on the weekend when fewer people are around or available to help. With a modern apartment intercom, lockout is never a concern for tenants. Even without a PIN code, tenants can make an intercom call to any of the admins that are configured within the management dashboard. Those admins can then grant access remotely to the tenant upon visual verification.
9. Peace of Mind
When security systems demonstrate their efficacy, tenants have the peace of mind that they want to feel when they are in their homes. Apartment intercom systems demonstrate this high level of security by allowing tenants to see exactly who has access to their building. Tenants have complete control over the management of their visitors. Through the same app that they issued unique visitor PINs, they can also see a log of who has an active one, the access credentials associated with that PIN, and they can easily revoke access should they need.
10. Managing Access During Tenant Turnover
System administrators, like property managers and landlords, have the huge task of minimizing the gap in security from when one tenant moves out to when the next moves in. Typically, admins need to manually revoke all forms of access through on-premise software. Then, keys needs to be accounted for. Those include mail keys, apartment door keys, fobs, key cards, and parking garage openers. Not only are those a lot of security components to keep track of, but they also require and unnecessary amount of overhead from apartment building staff. Modern apartment intercom eliminates the need to track all of that plus the overhead that comes with it.
An intercom and access system managed from the cloud is the most convenient and flexible way to oversee security and tenant turnover. Tenant credentials can issued and revoked remotely from anywhere a system admin has access to the dashboard. This can be through the app or web-based browser interface. Visitor PINs do not need to be created, issued, or managed because that responsibility is placed on the tenant. Once a tenant moves out, all credentials are revoked and there is no gap in apartment building security.
11. Manage Apartment Amenities
Apartment amenities are intended for the tenants that live in the building and pay for them. Apartment intercom extends beyond front door access to safeguard those amenities for those that are authorized to use them. Making an effort to safeguard amenities for tenants enhances a buildings reputation. It's a demonstration to tenants that their space is important and thus they are cared about. While seemingly insignificant, these small details yield big results reflected in high tenant retention and occupancy rates.
12. Secure Food Delivery
It shouldn't be a surprise that some apartment buildings have gained a bad rep from restaurants and food delivery apps. Secure food delivery can be a logistics nightmare for a delivery person. This is especially true if there are multiple apartment complexes involved, detailed instructions weren't provided by the tenant, or there isn't an intuitive visitor management solution. Late night deliveries can put a delivery person in danger if they are in an unfamiliar area and look confused. Similarly, delivery drivers that crowd a building's front entrance because none can get access also poses a security risk of tailgating and gives the perception of a building that lacks proper security protocol.
Apartment intercom easily enables secure food delivery by intuitive tenant directories and video intercom calling. Alternatively, single-use PIN codes can be provided in delivery instructions for frictionless access to the building without leaving any security vulnerabilities.
13. Reduce Overhead and Streamline Workflow
Upgrading to or adding a cloud-based intercom system to an apartment building should enhance tenant experience, but it should also have clear benefits to property managers. An intercom system that can be managed remotely and has an intuitive interface for all admins significantly reduces overhead and streamlines workflow.
Reducing overhead and streamlining workflow is a significant way for apartment building to cut costs. Cutting costs means increased revenue for properties or the ability to decrease rent and keep prices competitive for high occupancy and turnover low rates. Managing visitor access credentials remotely does this by eliminating the need to come to the building to manage security. It also means eliminating the coordination of key distribution, coming on site for lockouts, and managing local software to make any changes to credentials.
14. Intuitive Interface for Minimal Training
Training new property managers or building staff on the technical aspects of a legacy system including the nuances that comes with it is time consuming, particularly with the high turnover rate of building staff. The admin interface of an apartment intercom system should be intuitive to any user and not require any technical training. A brief system overview is all that an admin should need to operate the system.
15. External IT Support
Many legacy intercom systems require external IT support from professionals for manual software updates, system maintenance, troubleshooting problems, and performing training. This takes place on local software and hardware, which takes time and is costly. Cloud-based intercom and access systems update automatically over the air, and thus do not require any manual updates at all. A cloud-hosted system also performs maintenance and troubleshoots problems over the air. There is no on site server, which completely eliminates the need for maintenance of hardware. Lastly, training is simple, minimal, and does not have to be done by a professional.
16. Manage Vendors and Contractors
Admins can easily manage vendor or contractor access to the building. Multi- or single-use PIN codes can be generated, scheduled, and issued to recurring visitors, such as maintenance or cleaning staff. And, access can be granted at anytime to one-off clients via intercom calling.
17. Actionable Data Insights
Tangible data insights for any building are becoming incredibly valuable. They give decision-makers the transparency they need to make improvements that they know will generate results. Apartment intercom gives admins access to audit logs of access events. Video intercom also captures photos that are attached to each event. This level of detail allows admins to identify common patterns to understand how to increase security for tenants, maximize efficiency and flow of traffic, and ultimately improve the building overall.
18. Easily Scale Security Operations
Managing physical security for multiple locations is cumbersome if each property is siloed in their security operations and practices. Regional managers for multiple properties can easily scale security by managing it under one platform. Intercom and access solutions that operate from the cloud allow regional property managers or property managers looking to expand to do just that.
Last Modified: March 27th, 2023
Still have questions?
Tell us about your building and we'll help you find the best solution.