Apartment call box systems are a critical component of modern day building security. They are the first line of defense against unwanted visitors and intruders. With the growing need for security, and increasing package delivery and theft, many buildings are now upgrading their call box systems from a traditional telephone-based system to a video intercom system. This article provides essential tips for choosing a new call box for your apartment building.
Table of contents
Some related blog posts:
If you live in an apartment building, you may have noticed a small device near the entrance that looks like a miniature phone booth. This device is called an apartment call box, and it serves as a communication system between a visitor and a resident inside the building. But what exactly is a call box?
What is a Call Box?
A call box is a communication device that allows communication between two different points. In the past, call boxes were used on highways to communicate with a central dispatch station in case of emergencies. However, with the rise of cell phones and other mobile communication devices, the use of call boxes on highways has dropped significantly.
Today, call boxes typically refer to telephone entry systems in apartment buildings that allow communication between a visitor and a resident inside the building.
How Does an Apartment Call Box Work?
An apartment call box uses a telephone line connected to the device to make a phone call to a resident's phone wirelessly. When a visitor arrives at the building, they can use the call box to call the resident's phone and request entry into the building. The resident can then grant access by pressing a key on their phone, which sends a signal to the call box to unlock the gate by triggering the door lock.
In addition to providing a convenient way for visitors to gain entry into the building, apartment call boxes also enhance security by allowing residents to screen visitors before granting access. This helps prevent unauthorized access and can provide peace of mind for residents.
Essential Tips for Buying a Call Box for Apartments
Migrate from wired or telephone system to video intercom
Many buildings have now retrofitted their telephone systems with a video intercom. This has several benefits. Firstly, video intercoms allow visual verification of visitors, which can be especially useful in preventing porch pirates who pretend to be delivery drivers. Secondly, video intercoms allow for remote access through a mobile app, giving residents more control over who enters their building. Thirdly, video intercoms also provide built-in support for landline or telephone calling, making it accessible to all residents, regardless of their tech-savviness.
Visual Verification
Video intercoms provide visual verification of visitors, making it easier to prevent porch pirates and other potential intruders. Additionally, video intercoms that store photo logs when a visitor is buzzed in can increase security by allowing residents to see who was let in, and when.
Eliminate Use of Shared PINs
Older intercom systems often use a single, shared 4-digit pin code, which can leak over time and create security issues. With a video based apartment call box, residents can have unique codes assigned to them, eliminating the risk of shared pins.
Avoid Products with Known Security Hacks
It is important to be aware of intercom systems that have known security vulnerabilities or hacks. For example, some telephone entry systems can be easily hacked with keys that can be purchased online. To avoid these issues, choose an apartment callbox system that has robust security features and is regularly updated to fix vulnerabilities.
Remote Access
Many video intercom systems allow residents to remotely open the door through a mobile app, even if a call was not made. This is especially convenient for residents who are on-the-go or need to let someone in while away from home.
Support for Landline/Telephone Calling
For those residents who do not have a smartphone or are not tech-savvy, it is important to choose a video intercom system that provides built-in support for landline or telephone calling. These calls can also unlock the door remotely by pressing a digit, typically 9, which provides a convenient alternative for all residents.
Package Delivery
Video intercom systems should have the ability to provide unique, non-shared PINs for each delivery company. This, along with a photo audit log, helps to maintain high security and track the use of the delivery PINs.
Food Delivery
Similarly, the video intercom system should have a way to provide a single-use PIN for food delivery companies like Uber Eats and Doordash, which use a different driver each time. These PINs should expire after the first use, preventing access from being leaked over time.
Guest Pass
Modern condo and apartment call boxes should allow residents to provide guests with temporary access, with time window limits and other features to ensure security.
Lower Costs of Maintenance
Video intercom systems are more modern and simplify the maintenance process, reducing the cost of paying security companies to manage the system. This is especially important for landlords who want to reduce unpredictable maintenance calls and service calls with security companies.
Mobile App Access
Many call boxes now offer the ability to use your mobile app as a key instead of traditional keys. This means you no longer have to worry about forgetting your keys or getting locked out. Simply download the app and you'll have instant access to your building.
Face Unlock
In addition to mobile app access, many modern intercoms now offer the ability to use your face as facial recognition door access. This is convenient for all age groups and eliminates the need to remember to bring your key or mobile phone. When choosing a call box, make sure the company takes data security and privacy seriously.
Vandalism Protection
When upgrading your call box, it's important to ensure that the product has a high IK rating (1-10) and can withstand impact and vandalism. A call box that can withstand tough weather conditions and has a high impact rating will last longer and need fewer repairs.
Over-the-Air Updates
To keep up with rapidly changing technology, make sure your call box has software updates that are regularly rolled out over the air. This way, you can get the latest features without having to replace the device in a few years.
Weather Protection
It's important to choose a call box that can handle various weather conditions, both lower and higher temperatures. Look for a device with an IP65 rating or higher to ensure it can withstand tough weather conditions.
Low Profile Hardware
Make sure the screen of your call box is low profile and not flashing bright colors. This will help prevent your building from becoming a target for vandalism and break-ins. Companies will often use bright colors for marketing purposes, so be aware of this when choosing a call box.
Cost
Cost is a huge factor to consider when upgrading your call box. Keep in mind that there may be hardware, installation, and monthly costs associated with the system. Additionally, if your building doesn't already have wired internet for the common area, you may have to factor in the cost of getting wired internet. Many companies, such as Swiftlane, offer cellular-based connectivity for the intercom, which is typically far cheaper than getting a wired internet connection and can save you anywhere from $100-$150 per month in internet costs.
Cellular Backup
Ensure that your call box supports cellular backup in case the internet goes down or is glitchy. This will provide an essential form of reliability and redundancy.
Data Privacy and Security
It's important to choose a company that takes data privacy and security seriously. Look for certifications around security to ensure that your data doesn't fall into the hands of intruders and hackers.
Connect with Existing Key Card/Fob System
Make sure your call box can work with your existing infrastructure and is able to expand to future needs like key card readers and fob readers. This way, you're investing in a solution that can scale with your needs.
Building Layout
When upgrading your call box, consider your building's layout. Make sure the call box can work with vestibule doors and buzz elevators, if necessary.
Top Apartment Call Box Systems
Swiftlane Video Intercom Call Box for Apartments
Swiftlane provides a smart video call box for apartments that can make video calls to a resident's phone. It also supports regular telephone calls to cell phones and landlines, just in case the resident is out of internet coverage or does not use a smartphone. It is a fully integrated visitor intercom and touchless entry solution for residents and guests. Access methods include face unlock, mobile app access, key fob access and PIN access.
Key Features of Swiftlane Call Box
It is the only call box in our comparison that offers facial recognition access for residents, besides allowing each resident to issue automatic entry codes to their guests and deliveries.
Deep Dive: Swiftlane Video Intercom Call Box for Apartments
Intercom Features of Swiftlane Video Call Box
One way and two way video intercom calling
Can call residents on their smartphones, regular mobile phones, and landline phones
Remote door release through mobile app, landline, and regular mobile phone
Wireless voice and video calling through WiFi broadband and LTE
A touchscreen searchable directory is provided on the entry call box
Automatic photo log storage of every visitor for auditing and higher security
Entry call box contains a built-in full HD video camera and best quality microphone and speakers
Touchless voice activated calling for visitors
Highest IK10 impact resistance rating to prevent damage from vandalism
Visitor Access Features of Swiftlane Apartment Call Box
Intercom Access: Select a tenant from the touchscreen directory and start a video or audio call
Mobile App Door Release: Residents can unlock the door from the Swiftlane after speaking to visitors and watching their live video
Regular Phone Door Release: Receive visitor calls on regular cell phone and landline phones and unlock the door by pressing 9.
PIN Code Access: Visitors and delivery drivers can type an assigned PIN into a touchscreen keypad to enter the building for package delivery
Swiftlane Call Box: Resident Access Features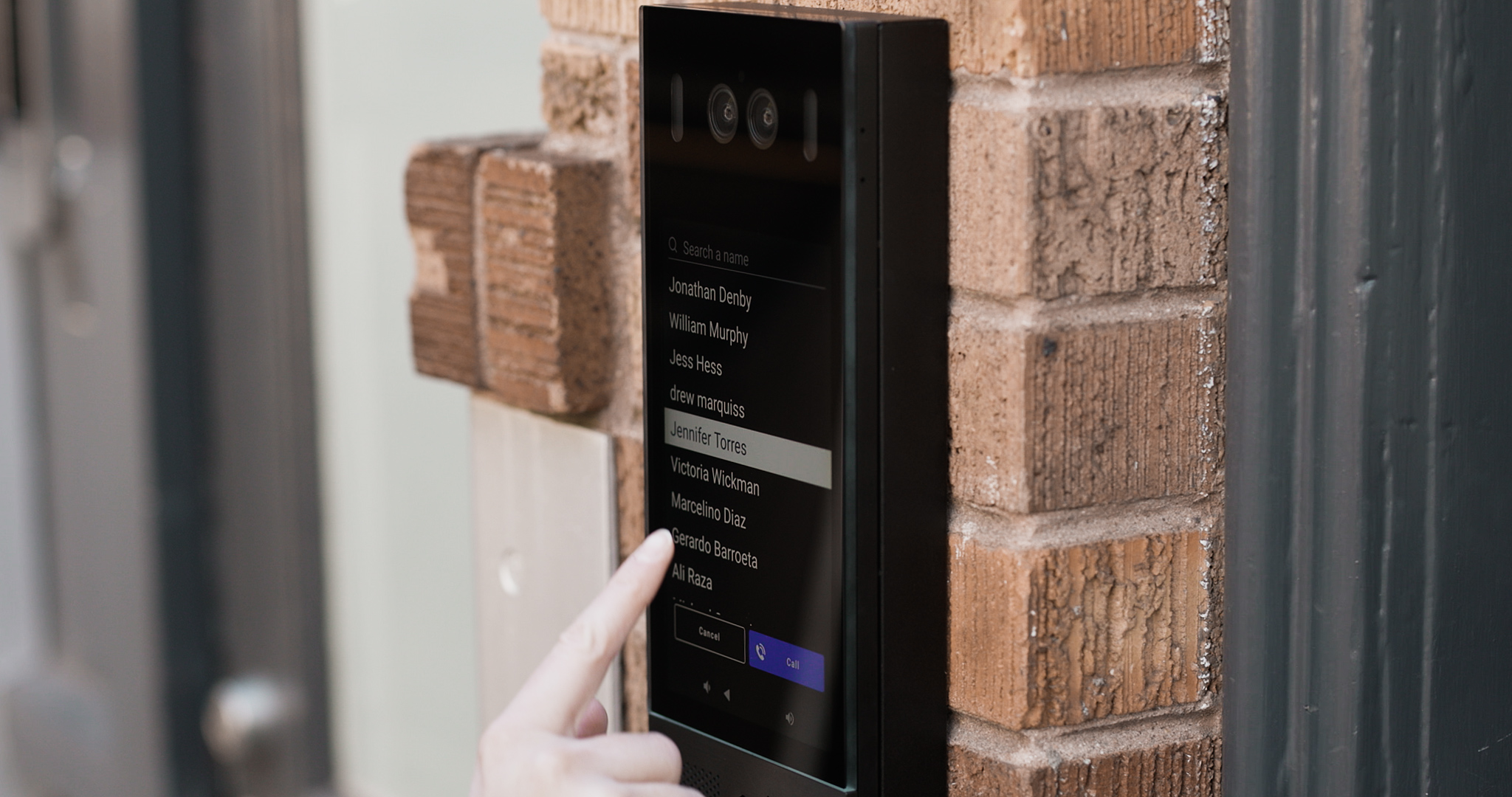 Swiftlane apartment call box provides multiple building access methods for residents. Each resident can choose the method of access they prefer.
Facial Recognition: Touchless door unlock using cutting-edge facial recognition technology. Just face the Swifttreader X and the door unlocks
Bluetooth Proximity Door Access: Your phone becomes a proximity card
Key fob and card access: Swiftlane apartment call box can retrofit your existing card or fob based system
Mobile App Unlock: Unlock the door from your smartphone using the Swiftlane app
Elevator and Gate Access: Use Swiftlane call box apartment for elevator, garage, parking and package room access
Swiftlane Call Box Price
Swiftlane video intercom costs between $1200-$1800, depending on the model of the hardware being used.
Software Fees: Depending on the feature set, Swiftlane can be purchased with an ongoing subscription starting at $35/month, or with no ongoing costs.
Request a Quote for Swiftlane Video Call Box
Swiftlane Apartment Call Box Reviews
Doorking Telephone Line Call Box
Established in 1948, Doorking is a well-known call box brand. Also known as DKS, Doorking provides a range of old-fashioned apartment call box models that operate on telephone lines or cellular connections. Typical Doorking call boxes connect to apartment units through plain old telephone service (POTS) lines. This makes them less suitable for modern buildings where POTS lines are not installed.
Doorking telephone entry systems depends on landline connections, which are becoming more expensive by the day. DKS has introduced wireless call box models that operate on cellular and VoIP technology. You don't need to lay wires, but you still need to install indoor stations or handsets in each unit, as the DKS telephone line apartment call box does not support mobile app calling.
Key Features of Doorking Apartment Call Box
Doorking is the improved version of a traditional apartment door buzzer from the '50s. It comes with a turn-of-century push-button and LCD interface, which may not look very impressive on the main entrance of modern residential or commercial buildings.
The Doorking apartment call box lacks the benefits that modern cloud-based call boxes provide, such as video calling, access control, and remote management. Main features include:
Phone line based audio intercom call box
Cellular based connectivity option available
Can work with an internet line for an additional monthly fee to make VOIP audio calls
Postal switch input to connect postal lock box
No video calling or facial recognition
No mobile or key card access, although Doorking proximity card reader is available as an ad-on system
No photo logs storage for visitor entry
Doorking Apartment Call Box Price
The Doorking apartment call box telephone entry system costs between $50-$100 per call box per month, including the cost of landline or cellular system. The apartment call box can be purchased from Doorking's dealer network.
Locate a Doorking Call Box Dealer in Your Area
BAS-IP Call Box for Apartment Buildings
BAS-IP is a British manufacturer focusing on video intercom products since 2008. The Company's hardware offerings include a range of multi-apartment property access panels, indoor video intercom monitors, and accessories. The BAS-IP software includes the UKEY access control mobile app and Link property management software.
Key Features and Limitations of BAS-IP Apartment Call Box
10″ touchscreen entry panel with facial recognition option
Keyless smartphone entry through UKEY app
Pin code, key fob, access card, NFC, and Bluetooth access
Guest access by QR code, car license plate, or virtual keys
On-screen searchable phone book
Lift and concierge calling feature
SIP based mobile and landline calling
Cannot stream visitor video to smartphones
Indoor monitor required in each apartment
BAS-IP Call Box Price
BAS-IP does not reveal its call box price on its website. Click here to find a BAS-IP dealer in your country.
Suggested for you: Best Apartment Intercom Systems
Whoo Mobile Intercom Call Box
Whoo.ai is a software company providing a wireless apartment call box alternative for small and midsized residential buildings and gated communities. The system can be installed with almost no wiring within 4 hours, according to the company's website.
It comes with a free mobile app for residents to receive video calls, unlock the door for visitors, and access the building themselves. Reportedly, the Whoo call box relies on Akuvox intercom hardware and a third-party mobile application.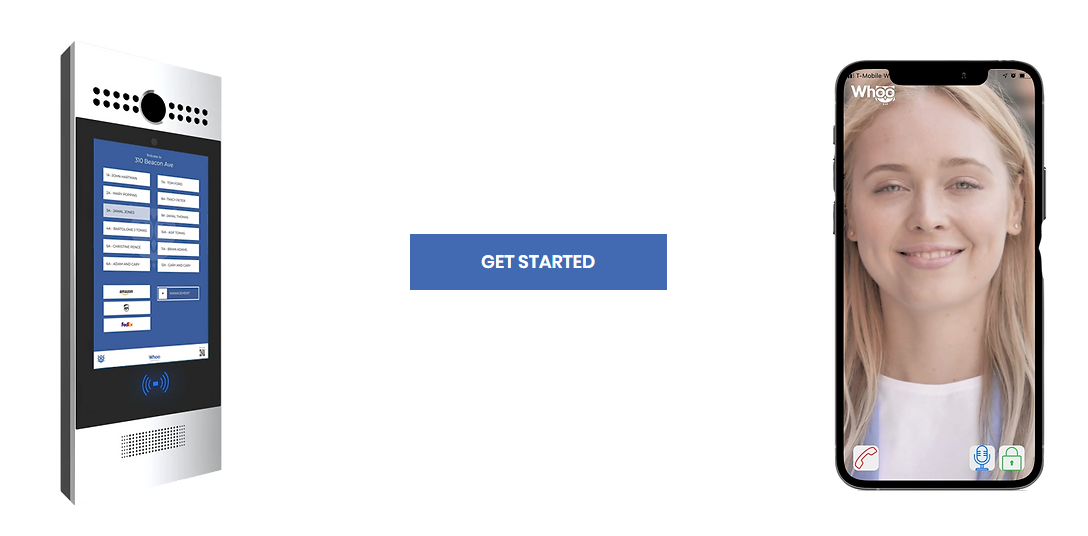 Whoo Apartment Call Box Features and Limitations
7″ IPS LCD touchscreen entry panel with 3 megapixel camera
One-way video and two-way audio calling
The camera works continuously, not just during the calls
Ethernet based operation and installation
Video calling on residents' smartphones via third-party mobile app
No known SIP capability
It is unclear if the system stores entry photos
Price of Whoo Call Box for Apartments
Whoo.ai does not disclose the price of its apartment call box publicly. You can contact their sales team and request a quote for your building.
More Call Boxes for Apartments
Latch apartment intercom call box
Liftmaster smart video call box
Aiphone apartment call box with video
Alpha Communications apartment call box
2N call boxes for apartment buildings
Which Apartment Call Box Should You Get?
It can be challenging to select the best call box for your apartment building, given the sheer number of available choices. Make sure you analyze your needs carefully and compare the features and prices of various alternatives before making the final decision. As a general guideline, you should invest in a future-proof cloud-based system that offers multiple entry methods, smartphone video calling, wireless connectivity, and facial recognition.
Here are a couple of more articles that are useful for selecting the best apartment call box:
36 features to look for in an apartment call box
34 considerations for buying a new intercom call box system (download)
Contact Swiftlane to request a Quote for an Apartment Call Box System
Contact us for a free consultation and quote