If you are looking to replace your old apartment call box system with a modern intercom system, you may be in for some pleasant surprises. Today's apartment call box systems look more like touchscreen tablets and LCD displays than giant archaic boxes. They also offer a wide range of benefits that a vintage call box simply does not. In this article, we review the most popular apartment call box systems in the market.
How the Apartment Callbox Has Changed
Your old apartment call box was probably installed a couple of decades ago, if not longer. These were the times of door buzzer systems. Installers had to lay miles of cables to relay audio signals from the main door to each apartment unit. The notion of video calling belonged in science fiction films and there was no way for residents to receive visitor calls remotely, when they found themselves out and about. All that has changed.
Now:
SIP based call boxes allow visitors to call residents on their mobile phones
Video call boxes allow residents to see the visitor before unlocking the door
Cloud-based call boxes can be self managed from anywhere
Call boxes provide card and facial recognition based access alongside intercom door release
Residents can schedule temporary access for their guests and deliveries
VoIP and WiFi have eliminated the need of cables, meaning you can install a wireless call box at your building's front door and start using it within a matter of hours.
While these revolutionary improvements make the modern call box much more useful than your vintage call box or door buzzer system, they also make it a little bit overwhelming to make the right choice when buying a new call box for your building or apartment.
To help you make an informed decision, we have listed down the best apartment call boxes along with their key features and pricing. Let's find you the best apartment call box system that meets your specific needs.
Swiftlane Video Intercom Call Box for Apartments
Swiftlane provides a smart video call box for apartments that can make video calls to a resident's phone. It also supports regular telephone calls to cell phones and landlines, just in case the resident is out of internet coverage or does not use a smartphone. It is a fully integrated visitor intercom and touchless entry solution for residents and guests. Access methods include face unlock, mobile app access, key fob access and PIN access.
Key Features of Swiftlane Call Box
It is the only call box in our comparison that offers facial recognition access for residents, besides allowing each resident to issue automatic entry codes to their guests and deliveries.
Deep Dive: Swiftlane Video Intercom Call Box for Apartments
Intercom Features of Swiftlane Video Call Box
One way and two way video intercom calling
Can call residents on their smartphones, regular mobile phones, and landline phones
Remote door release through mobile app, landline, and regular mobile phone
Wireless voice and video calling through WiFi broadband and LTE
A touchscreen searchable directory is provided on the entry call box
Automatic photo log storage of every visitor for auditing and higher security
Entry call box contains a built-in full HD video camera and best quality microphone and speakers
Touchless voice activated calling for visitors
Highest IK10 impact resistance rating to prevent damage from vandalism
Visitor Access Features of Swiftlane Apartment Call Box
Intercom Access: Select a tenant from the touchscreen directory and start a video or audio call
Mobile App Door Release: Residents can unlock the door from the Swiftlane after speaking to visitors and watching their live video
Regular Phone Door Release: Receive visitor calls on regular cell phone and landline phones and unlock the door by pressing 9.
PIN Code Access: Visitors and delivery drivers can type an assigned PIN into a touchscreen keypad to enter the building for package delivery
Swiftlane Call Box: Resident Access Features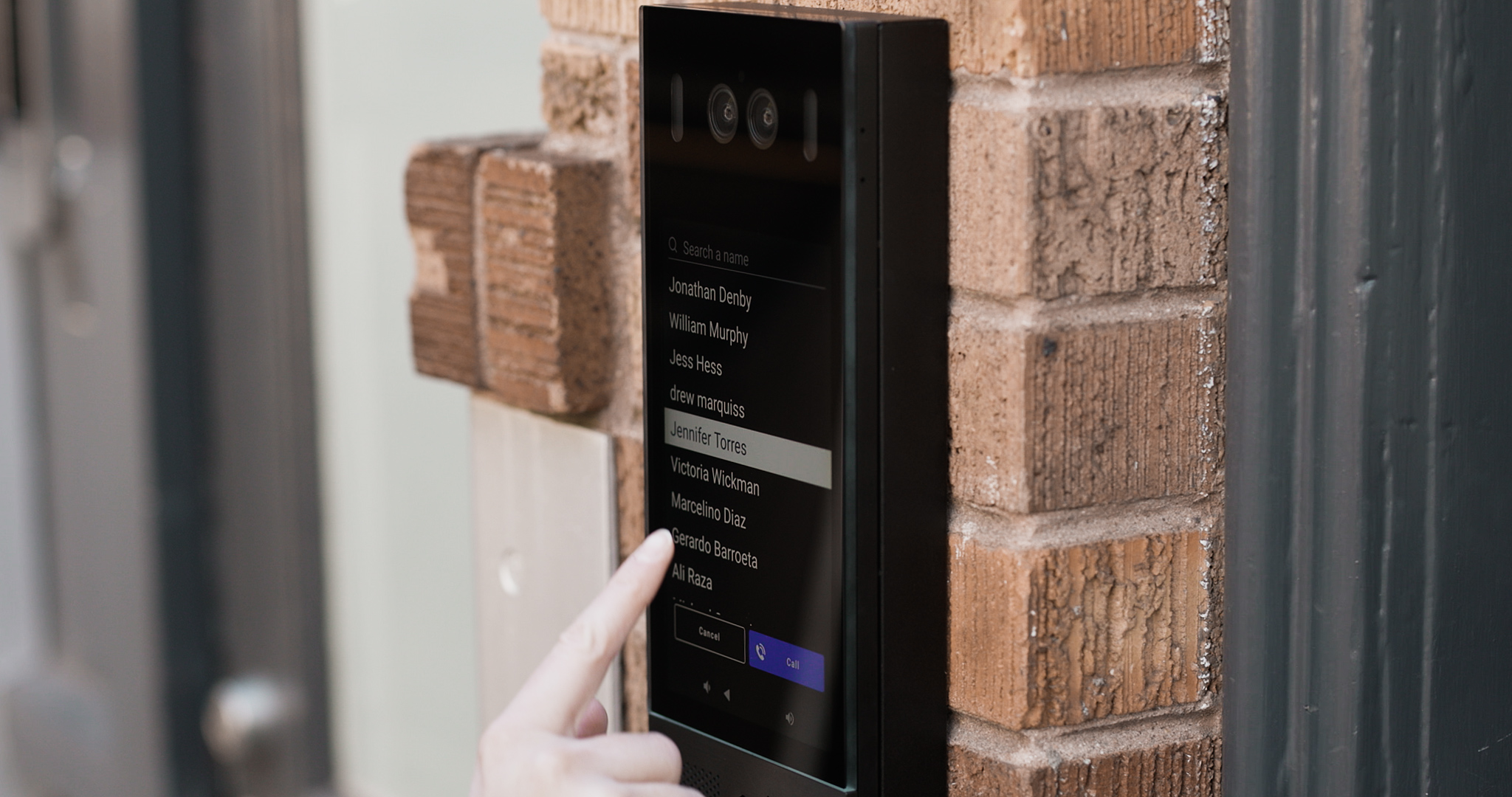 Swiftlane apartment call box provides multiple building access methods for residents. Each resident can choose the method of access they prefer.
Facial Recognition: Touchless door unlock using cutting-edge facial recognition technology. Just face the Swifttreader X and the door unlocks
Bluetooth Proximity Door Access: Your phone becomes a proximity card
Key fob and card access: Swiftlane apartment call box can retrofit your existing card or fob based system
Mobile App Unlock: Unlock the door from your smartphone using the Swiftlane app
Elevator and Gate Access: Use Swiftlane call box apartment for elevator, garage, parking and package room access
Swiftlane Call Box Price
Swiftlane video intercom costs between $1200-$1800, depending on the model of the hardware being used.
Software Fees: Depending on the feature set, Swiftlane can be purchased with an ongoing subscription starting at $35/month, or with no ongoing costs.
Request a Quote for Swiftlane Video Call Box
Doorking Telephone Line Call Box
Established in 1948, Doorking is a well-known call box brand. Also known as DKS, Doorking provides a range of old-fashioned apartment call box models that operate on telephone lines or cellular connections. Typical Doorking call boxes connect to apartment units through plain old telephone service (POTS) lines. This makes them less suitable for modern buildings where POTS lines are not installed.
Doorking telephone entry systems depends on landline connections, which are becoming more expensive by the day. DKS has introduced wireless call box models that operate on cellular and VoIP technology. You don't need to lay wires, but you still need to install indoor stations or handsets in each unit, as the DKS telephone line apartment call box does not support mobile app calling.
Key Features of Doorking Apartment Call Box
Doorking is the improved version of a traditional apartment door buzzer from the '50s. It comes with a turn-of-century push-button and LCD interface, which may not look very impressive on the main entrance of modern residential or commercial buildings.
The Doorking apartment call box lacks the benefits that modern cloud-based call boxes provide, such as video calling, access control, and remote management. Main features include:
Phone line based audio intercom call box
Cellular based connectivity option available
Can work with an internet line for an additional monthly fee to make VOIP audio calls
Postal switch input to connect postal lock box
No video calling or facial recognition
No mobile or key card access, although Doorking proximity card reader is available as an ad-on system
No photo logs storage for visitor entry
Doorking Apartment Call Box Price
The Doorking apartment call box telephone entry system costs between $50-$100 per call box per month, including the cost of landline or cellular system. The apartment call box can be purchased from Doorking's dealer network.
Locate a Doorking Call Box Dealer in Your Area
ButterflyMX Video Intercom Apartment Call Box
ButterflyMX is a manufacturer of video intercom systems in the US. The ButterflyMX intercom makes a push notification video call to a resident, to allow communication between a resident and a visitor.
Key Features of ButterflyMX Apartment Call Box
Push notification based video intercom to a mobile app
Remotely open the gates with the mobile app
Generate QR codes that can be given to delivery people and visitors
Store photo audit logs for visitors
ButterflyMX des not provide key fob access. If you need key fob or elevator access, Butterfly works with third party companies like Pro Data Key for access. This may require two different providers and two subscriptions.
ButterflyMX Call Box Price
ButterflyMX call boxes cost from $4995 for the 7″ panel to $6995 for the 11.6″ entry panel.
ButterflyMX subscription costs around $40 per resident per year. For a 200 unit building, this would be $8000 a year.
Read in-depth ButterflyMX Review
BAS-IP Call Box for Apartment Buildings
BAS-IP is a British manufacturer focusing on video intercom products since 2008. The Company's hardware offerings include a range of multi-apartment property access panels, indoor video intercom monitors, and accessories. The BAS-IP software includes the UKEY access control mobile app and Link property management software.
Key Features and Limitations of BAS-IP Apartment Call Box
10″ touchscreen entry panel with facial recognition option
Keyless smartphone entry through UKEY app
Pin code, key fob, access card, NFC, and Bluetooth access
Guest access by QR code, car license plate, or virtual keys
On-screen searchable phone book
Lift and concierge calling feature
SIP based mobile and landline calling
Cannot stream visitor video to smartphones
Indoor monitor required in each apartment
BAS-IP Call Box Price
BAS-IP does not reveal its call box price on its website. Click here to find a BAS-IP dealer in your country.
Suggested for you: Best Apartment Intercom Systems
Whoo Mobile Intercom Call Box
Whoo.ai is a software company providing a wireless apartment call box alternative for small and midsized residential buildings and gated communities. The system can be installed with almost no wiring within 4 hours, according to the company's website.
It comes with a free mobile app for residents to receive video calls, unlock the door for visitors, and access the building themselves. Reportedly, the Whoo call box relies on Akuvox intercom hardware and a third-party mobile application.
Whoo Apartment Call Box Features and Limitations
7″ IPS LCD touchscreen entry panel with 3 megapixel camera
One-way video and two-way audio calling
The camera works continuously, not just during the calls
Ethernet based operation and installation
Video calling on residents' smartphones via third-party mobile app
No known SIP capability
It is unclear if the system stores entry photos
Price of Whoo Call Box for Apartments
Whoo.ai does not disclose the price of its apartment call box publicly. You can contact their sales team and request a quote for your building.
More Call Boxes for Apartments
Latch apartment intercom call box
Liftmaster smart video call box
Aiphone apartment call box with video
Alpha Communications apartment call box
2N call boxes for apartment buildings
So, Which Apartment Call Box Should You Get?
It can be challenging to select the best call box for your apartment building, given the sheer number of available choices. Make sure you analyze your needs carefully and compare the features and prices of various alternatives before making the final decision. As a general guideline, you should invest in a future-proof cloud-based system that offers multiple entry methods, smartphone video calling, wireless connectivity, and facial recognition.
Here are a couple of more articles that for selecting the best apartment call box:
36 features to look for in an apartment call box
34 considerations for buying a new intercom call box system (download)