Apartment Video Intercom for Modern Visitor and Resident Access
Upgrade your building callbox to Swiftlane intercom. Visitors can reach residents on a video call. A resident can now open doors with face unlock, a mobile app and voice commands.
Multi-Tenant Video Intercom
Mobile App Door Unlock
Touchless Face Recognition Access
40% cheaper than other video intercoms
High vandal resistance for urban environments
Receive a Quote
Watch How Swiftlane Video Intercom Works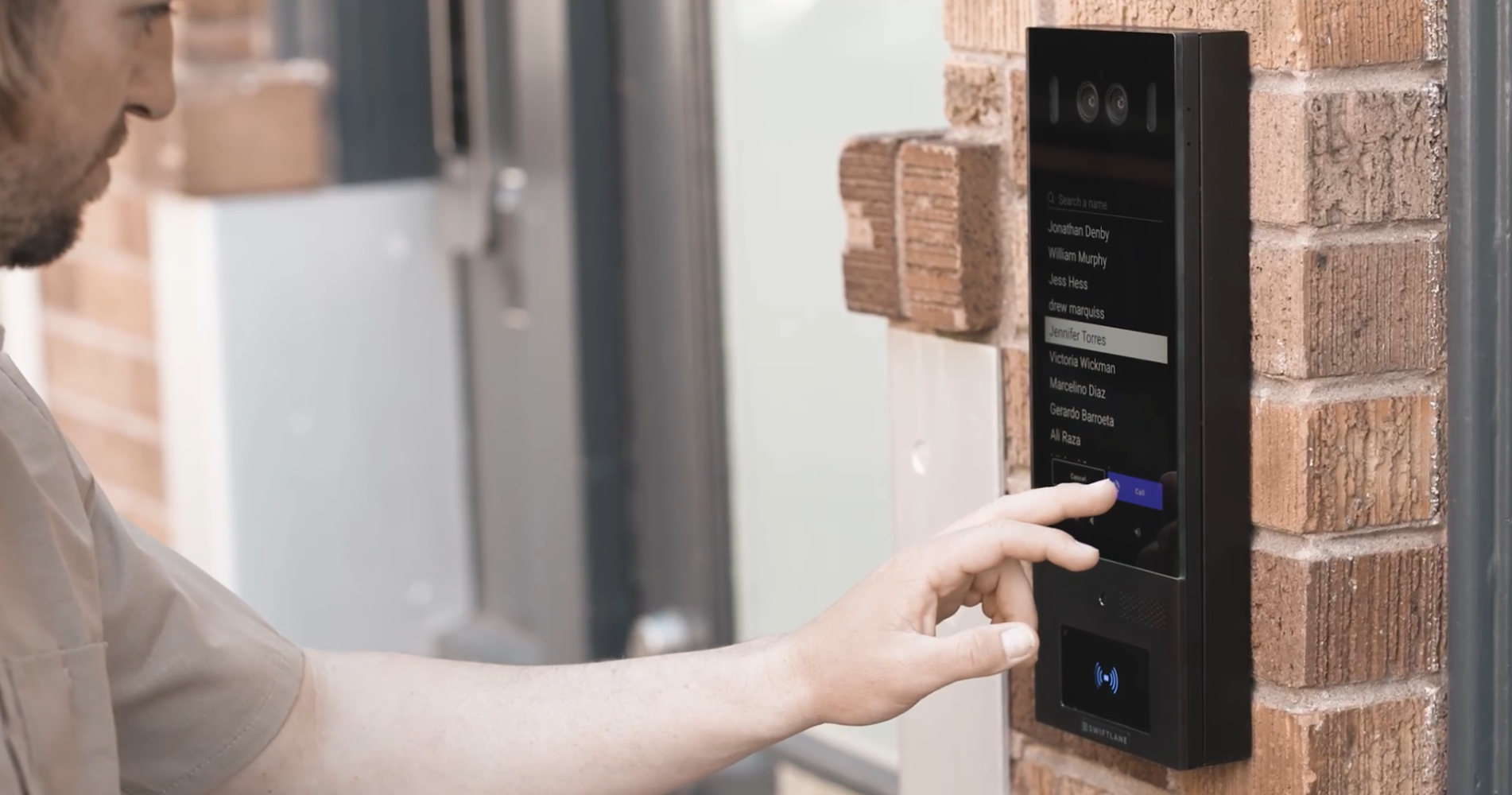 Swiftlane Multi-Tenant Video Intercom
Give access to visitors and package deliveries securely and conveniently.
Visitors can browse and call tenants through the touch screen directory

Residents receive wireless video or telephone calls

Remotely unlock doors for visitors, even when you are not home

See who is at the door, before letting them in
Unlimited photo audit log of visitor activity, for higher security
Request a Quote For Your Building
Video and Audio Intercom Calls
Swiftlane supports video calling, as well as VOIP based telephone intercom calls
Wireless Video Calls
Remote Door Unlock
Cell phone and landline VOIP calls supported
Meet every resident's preferences
Swiftlane Mobile App Access
Offer mobile app based access as an amenity to residents.
Keep forgetting your keys? Just use the Swiftlane app to unlock doors.

Unlock your building doors with the Swiftlane app

Remotely let visitors and deliveries into the building

Works alongside your fobs and keys

Use Siri voice commands to unlock doors instantly
Book a Demo
Touchless Face Recognition Access
Keep forgetting your keys? Just use your face to get into the building.
Residents can enroll their face through the Swiftlane mobile app
High security and convenient access
Never worry about getting locked out from forgetting keys or fobs
No need to fumble to search for your keys
Built with safeguards for your privacy and data
LEARN MORE
Serving Property Managers and Owners Nationwide
Beautifully Designed With Vandal and Impact Protection Guarantee
Swiftlane is designed and reinforced for vandal protection resistance and is IK07 impact rated. Hardware features custom security screws, strong aluminum enclosure, and additional theft and vandal protection insurance available.
Swiftlane Video Intercom Features
High-Quality Video Calling

Reliable, 1080p HD video calling. High-quality video offers better security and verification.

Temporary Visitor Access

Assign unique six-digit single-use or multi-use PINs for visitors or deliveries. Easily revoke PINs immediately.

Remote Door Unlock

Use the Swiftlane mobile app from anywhere to remotely grant access to visitors and unlock doors.

Integrated Access Control

Reliable mobile access allows users to open doors with just a click on a smartphone. Option to upgrade to face recognition access.

Scalable for Multiple Buildings and Admins

Centrally manage multiple buildings from a single cloud-based dashboard. Add multiple admins to create a virtual front desk that can be managed from anywhere.

Real-Time Security Monitoring

View all door access in real-time via cloud-based dashboard. Prevent unauthorized access with a visual audit trail and tailgating alerts.

Remotely Answer Intercom Calls

Swiftlane app allows picking up a call from anywhere. Calls are received as a regular phone call without the need to monitor app push notifications. Traditional intercom systems only work when you are in the building.

Versatile, Beautiful Hardware

SwiftReader is compact and easily mountable with a 7.75″ design with robust metal enclosure in matte, dark gray finish. The hardware is IK07 rated for impact protection. Sunshade enclosure also available.


Easy Installation, Onboarding, and Updates

Swiftlane is U.S. based and sold through local installers who provide installation and ongoing support. Automatic software updates eliminate constant need for expensive maintenance.

Learn More About Swiftlane's Features
Contact us
to learn more about Swiftlane Video Intercom