SwiftReader
Touchless Access
Control Hardware
Swiftlane's smart SwiftReader enables the future of access control. SwiftReader combines multiple forms of touchless access control and video intercom into a single device. Requires only a single PoE input to operate.
Facial Recognition Access Control
Two-way Video Intercom
Mobile App Access Control over BLE
Over the air updates
Power over Ethernet (POE) connectivity
Pin based access
Get a quote
How It Works
Watch how Swiftlane can modernize and secure your workplace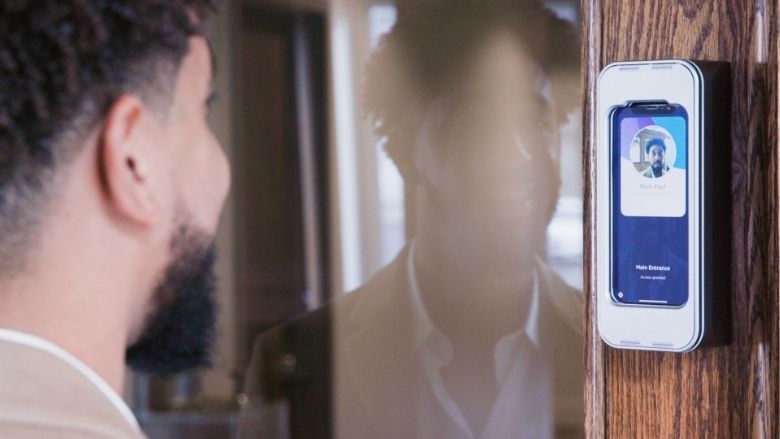 User Enrollment Takes 60 Seconds
Eliminate the need to line people up at the door for enrollment or hand out key cards or fobs
Just download the app, login, and scan your face
Access any number of doors
Enroll users across all your locations instantly
Face 
Recognition Access Control
SwiftReader supports facial recognition access control, with a 7MP camera and a wide vertical field of view. Leverage a truly touchless access control experience.
Mobile App Access Control
Reliable mobile app unlock. Simply press a button on the Swiftlane mobile app, to send a signal over Bluetooth Low Energy to unlock doors.
Two-Way Video Intercom
SwiftReader comes with a built-in video intercom for visitor management. Avoid large capital expenses of setting up two different systems for access control and visitors. 
PIN Based Access Control
Single-use temporary PINs for secure package deliveries and visitors
Create unique PINs and send via text, app, or email
Works Alongside Key Card Readers
Swiftlane works alongside key card readers, so you don't have to strip your existing card reader. Simply install SwiftReader to enable touchless access for your users and visitors.
Enable a Modern Access Control Reader Experience
01.
Face Recognition Features
Fast, one second unlock

60 second self-enrollment for users via the Swiftlane app

Enroll a user once, access any number of doors or building instantly

2D and 3D checks to prevent attacks using a photo or video

Low-light flash

Sun shade options for outdoor units, to prevent glares

Water resistant enclosure

Strong, secure aluminum body with vandal proof design

Works within a distance of 3 feet

Works across wide range of heights

ADA compliant by having alternative mobile unlock option

Constantly learning
02.
Mobile Access Control Features
Unlock doors via Bluetooth Low Energy

Unlock doors from anywhere, via remote unlock using cellular

Works from within 20 feet for BLE

Secure, encrypted handshake between SwiftReader and mobile app

Unique two-factor authentication combining face recognition and mobile access for high-security doors
03.
Video Intercom Features
Two-way video intercom

One-way video intercom option during call pickup

Pick up calls from anywhere, using the Swiftlane app

No need to be present inside the building, or run to a wall-mounted tablet

Ensure high security by avoiding package thieves
Robust metal enclosure

Slick, matte dark gray finish

Weatherproof design

Simple, one wire Power over Ethernet install

Quick installation process

Designed and reinforced for vandal protection resistance
IK07 impact rated
Additional theft and vandal protection insurance available
05.
Built for High Security and Privacy
Advanced anti-spoofing via 2D and 3D depth data prevents unauthorized access

SOC 2 and HIPAA compliant

Built in the US with strong privacy controls

Swiftlane is designed to protect your privacy. You own the data.

Trusted by financial institutions, commercial buildings, startups, government offices, and more
Complete Access Control System
Unlock a high-quality access control experience, by using tools that are built to work together well. Instead of assembling a bunch of various providers together, Swiftlane Access Control provides a unified offering across hardware, software, access control systems, and machine learning. This means you receive a product that works well together all the time.
Contact us
to learn more about the right solution for your building