Cloud-Based Access Control System
Swiftlane's Cloud Access Control System integrates mobile unlock, face recognition, video intercom and visitor management systems.
Get a Quote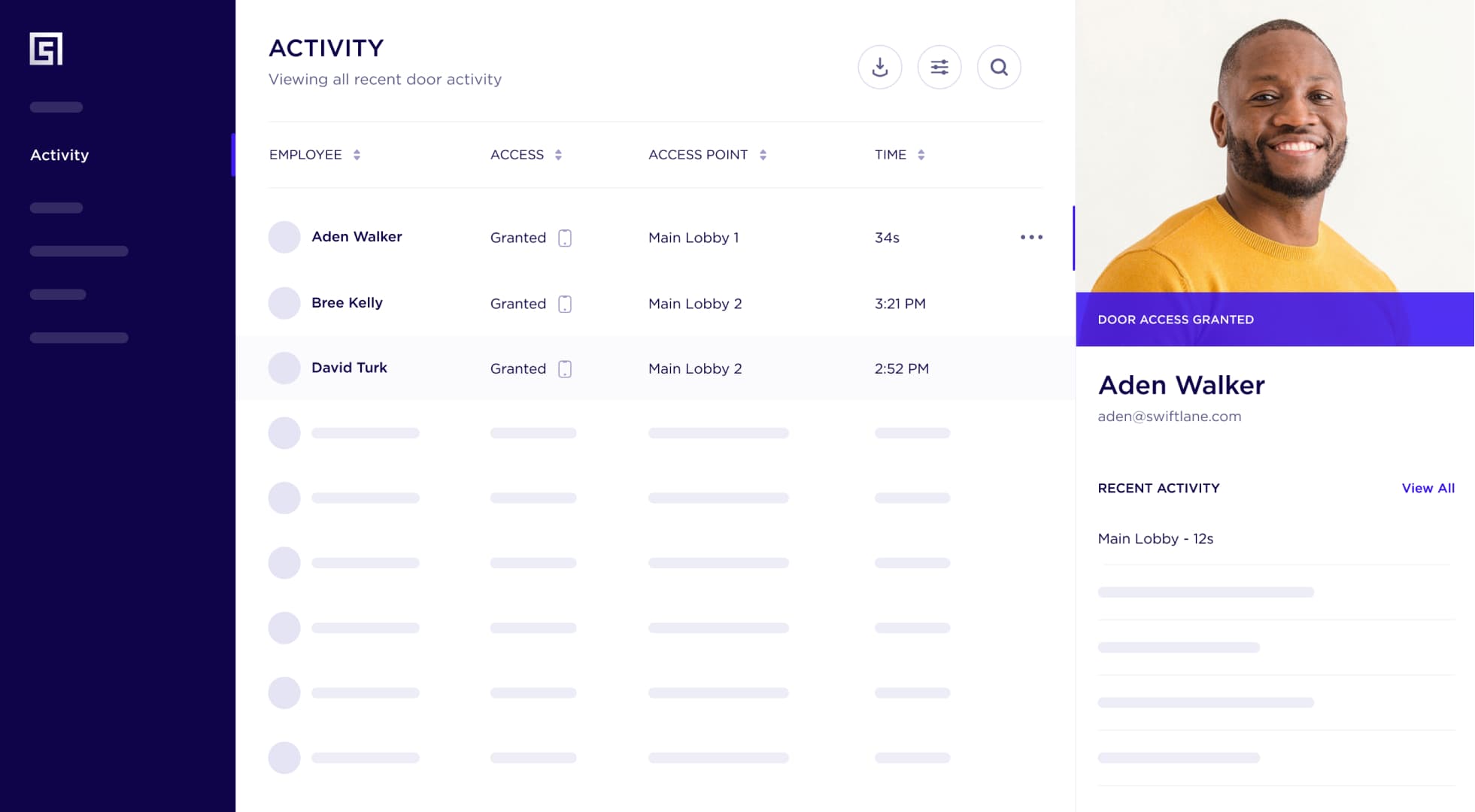 Find the Best Solution for Your Building
Office, Multifamily Residential and Commercial Real Estate
The all-in-one cloud based system empowers office teams, secures facilities and buildings, and simplifies visitor management with reliable two-way video calling, remote unlock capabilities, and touchless access control
Swiftlane provides secure, touchless access control using a cloud-based system that can be managed and accessed from anywhere. Visitor management has never been easier with two-way video and audio calling and remote door unlock — all done directly from your phone, browser or desktop dashboard
What Does Swiftlane Cloud Based Access Offer?
Global remote unlock capability
Manage permissions from anywhere
Free automatic cloud storage
Easy scalability to multiple sites
Minimal capital expenditure
Preconfigured software and hardware
No local server required
Free automatic software upgrades
Automatic fault detection
Swiftlane Cloud-Based Access Control Features
Eliminate the need for key cards and use just your mobile phone to unlock doors. Works nearby with Bluetooth Low Energy, or from anywhere using remote unlock.
Face recognition access delivers a seamless, hands-free entry experience and eliminates the need for carrying key cards or fobs.
03.
Video Intercom Remote Unlock
Video intercom with visitors at the front door and unlock the door remotely after visually verifying the person.
Instantly grant or restrict access, lock or unlock doors for individuals or groups. Do it from anywhere, even via mobile.
05.
COVID-19 Safety Solutions
Join access control with remote temperature scanning and health checking tools to keep employees and visitors safe.
06.
Manage Multiple Sites and Buildings
The Cloud-Based Access System allows for scalability to multiple sites, buildings, and locations, which can be managed remotely from anywhere.
07.
Multiple Admins and Receptionists
Easily add multiple admins and receptionists who can manage access and users from anywhere via mobile or desktop.
08.
Automatic Cloud Backup
Access entry logs stored in the Cloud from anywhere on your mobile or desktop.
09.
Visitor Management Integration
Integrate with Envoy to give a temporary access pass to visitors ahead of time.
Access Control Management Features
Grant or revoke access instantly from anywhere
Fine grained access permissions
Easy, intuitive user interface
Reduce the overhead of issuing new and replacement key cards
Handle visitors via the video intercom system with two-way audio & video calling
Simple, intuitive interface that eliminate complex training or setup
Single Sign On integrations with OKTA, G Suite, Azure Active Directory
Enroll employees and visitors from mobile app or desktop dashboard
Pre-register, preauthorize, and monitor visitors in real-time
View automatically stored entry logs
Modern, Convenient Access Control Experience
No need to remember key cards, just walk up to a door and it unlocks
Hold your coffee and your laptop, no need to fumble for your key cards
Touchless, germ-free access experience
Never get locked out again
Communicate with the admin directly via the Swiftlane intercom, in case of issues
Built for strong data privacy and security
Future Proof Your Investment
Future proof your access control investment
Key cards are already getting phased out
Eliminate heavy upfront costs and expensive maintenance
Remove security vulnerabilities from legacy card systems
Increase building aesthetics
Enhance security and elevate property value
Eliminate complex on-site servers
Empower your teams and protect employees and visitors
Create a modern, safe, and compliant workplace
Combined Access Control + Video Intercom
Avoid the cost of buying and installing two different systems for access control and intercom. Swiftlane intercom comes built in with touchless access control using your mobile phone or face unlock
01.
Touchless Mobile Access Control
Simply open the door with your phone. Avoid the hassles of giving out key cards and key fobs. Mobile unlock can be performed nearby over Bluetooth Low Energy, or via the app remotely from anywhere from the app using remote unlock feature.
02.
Face Recognition Access Control
Swiftlane's face recognition access control for employees and residents, provides completely touchless access to users. Simply look at the reader and the door unlocks. Self-enrollment is easy and takes only one minute, it can be done straight from the user's phone. Face recognition access is completely optional. High Security functionality that checks 3D data and prevents photo or video of a person from unlocking the door.
Built-in Swiftlane Video Intercom provides two way video intercom with visitors. Verify the person's identify and remotely unlock the doors for them, with just a click. Pick up calls straight from your computer or phone, no need to run to a tablet every few minutes, to handle guests.
Generate unique one time PINs for deliveries, or assign a unique PIN code to a user. Avoid shared pins that compromise security.
For offices, use our Envoy integration to send a temporary link based touchless access for visitors. For residential buildings, simply send a link from the app or dashboard to pre-authorize someone for access. They can open doors using just a temporary PIN or a link.
Enroll within seconds via Swiftlane app or email.
07.
Individually Control Each Door Schedule
Implement multilayer security with customized user and visitor permissions.
08.
Temporarily Grant Visitor Access
Preauthorize automatic entry for visitors, deliveries, and vendors.
Designed for Scalability
Designed for Scalability Multiple Admins and Receptionists

Configure multiple admins and receptionists, in order to provide detailed coverage for large sites, or redundancy in case one person is busy

Multiple Doors and Sites

Every building is different, and our system can scale to your needs. Swiftlane intercom dashboard allows configuring multiple entrances, and all of them can be managed centrally from the same system

Scales for One Door to Hundreds

Swiftlane's cloud-based Access Control System is designed for scalability, with constant over the air updates to provide new up to date features
Learn More About Swiftlane's Features
Get a Quote
Please share more details about your building so we can find the perfect solution for you!