Video Intercom System for Multifamily Residential Buildings
Swiftlane Video Intercom offers a modern visitor access solution for mid- to high-rise residential, apartment complexes, and multifamily gated communities.
Remote unlock with Swiftlane app
Two-way video and audio calling
Single-use PINs for secure delivery
Coordinate contactless tours
GET A FREE QUOTE
Video Intercom for Modern Residential Buildings
As tenants increasingly demand better security and amenities, landlords, building owners, and property managers need to adopt solutions that prioritize high security and safety. Swiftlane Video Intercom provides the flexible, convenient solutions every multifamily residential building needs.
Top 3 Amenities Multifamily Tenants Desire Most
Video Doorbell Intercom

More than 50% of the residents are strongly interested in video intercom and remote door unlock, to avoid package theft and handle visitors.

Secure, Keyless Access

Secure access is rated as the #1 most desirable feature. Non-key access is rated as a borderline high priority.

Package Management

84% of residents want secure, self-service 24/7 package access.
Watch How Swiftlane Video Intercom Works
Swiftlane Video Intercom is the easiest, most reliable access experience for building owners, property managers, tenants, and visitors.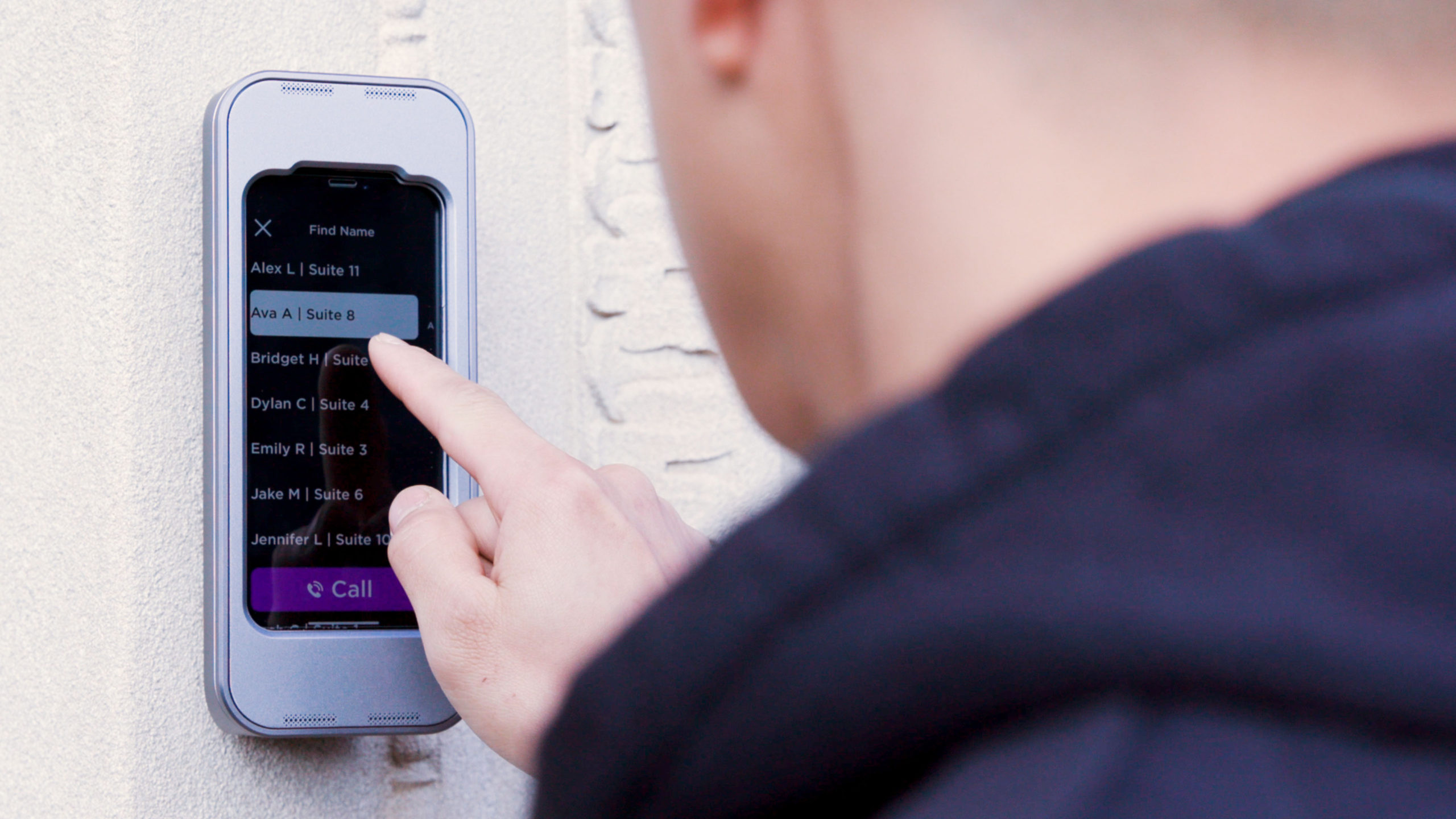 What Does Swiftlane Video Intercom Offer Multifamily Residential Buildings?
Swiftlane offers industry-leading video intercom features for any and all types of access.
Two-Way Video Intercom on Mobile Phone or Computer

Communicate with visitors using two-way calling video intercom to securely verify before allowing entry.

Mobile Unlock

Remotely unlock and manage door permissions from anywhere using a mobile phone or browser. Release door lock remotely from mobile app.

Delivery PINs

Generate unique six-digit, single-use PINs for deliveries, or assign a unique PIN to a user.

Simple Browser-Based Access Management

Remotely add or remove tenants via the browser-based dashboard. Intuitive management system to easily control access permission.

Front Desk Intercom

Visitors can easily contact the front desk or lobby staff by using the front door two-way audio and video calling. Front desk staff can remotely pick up a visitor call on their phone and unlock the door.

Swiftlane Solutions Work With

– Existing office door hardware
– Elevators
– Door entry
– Parking gates
– Turnstiles
Solve Your Biggest Challenges With Swiftlane
Every residential building has a unique set of challenges that includes how to handle package and deliveries, tenant and visitor access (dog walkers, cleaning staff, contractors, etc), and building and apartment tours. Here's how Swiftlane Video Intercom solves these pain points and creates delightful tenant experiences that prioritize safety and security.
01.
Secure Package Delivery
Never again miss a delivery or risk package theft with two-way video calling and remote unlock from your smartphone or wherever you use the Swiftlane App. 
02.
Easy Visitor Management From Anywhere
Remotely unlock the front door for your visitors without ever leaving the comfort of your home — or from anywhere if you're not home.
Provide prospective tenants the option for self-guided apartment tours to ensure physical safety as well as security. 
04.
Integrated Access Control
Swiftlane Video Intercom is equipped with built-in facial recognition, mobile, and pin based access control for frictionless tenant access to eliminate key card and fobs. Save the expense of operating two different systems.
05.
Simple Browser-Based Access Management
Remotely add or remove tenants via the browser-based dashboard. Intuitive management system to easily control access permission.
High Security and Privacy First Guarantee
Swiftlane delivers reliable, convenient solutions that prioritize high security and data privacy.
Encrypted Communications

TLS and HTTPS encrypted communications to secure your data.

Two-Factor Authentication

Turn on face recognition + mobile unlock for high security areas.

Visual Verification

Prevent unauthorized access through a photo-based audit trail.

Secure Data Handling

Encrypted storage and secure data handling policies safeguard from unauthorized access.

Data Usage

Swiftlane does not sell your data, please read our complete Privacy Policy.

Tailgating Detection

Detect and prevent break-ins with automatic tailgating alerts.
Contact us
to learn more about Swiftlane Video Intercom for multifamily buildings