Homebase.ai offers an all-in-one smart building system designed to elevate resident experience and maximize profit. Their platform includes features like Managed WiFi, Smart Access, Visitor Management, and more. Homebase aims to make smart technology simple and easy to use, offering solutions in the following areas:
Internet Infrastructure: Managed WiFi helps boost NOI and offers customizable WiFi tiers.
Access Automation: Smart access control for self-guided tours, instant move-ins, in-unit grocery delivery, unlock notifications, activity tracking, package room access, parking gate access, and door sensor alerts.
Smart Devices: A range of smart device controls including smart thermostats, lighting, appliances, digital payments, and security cameras.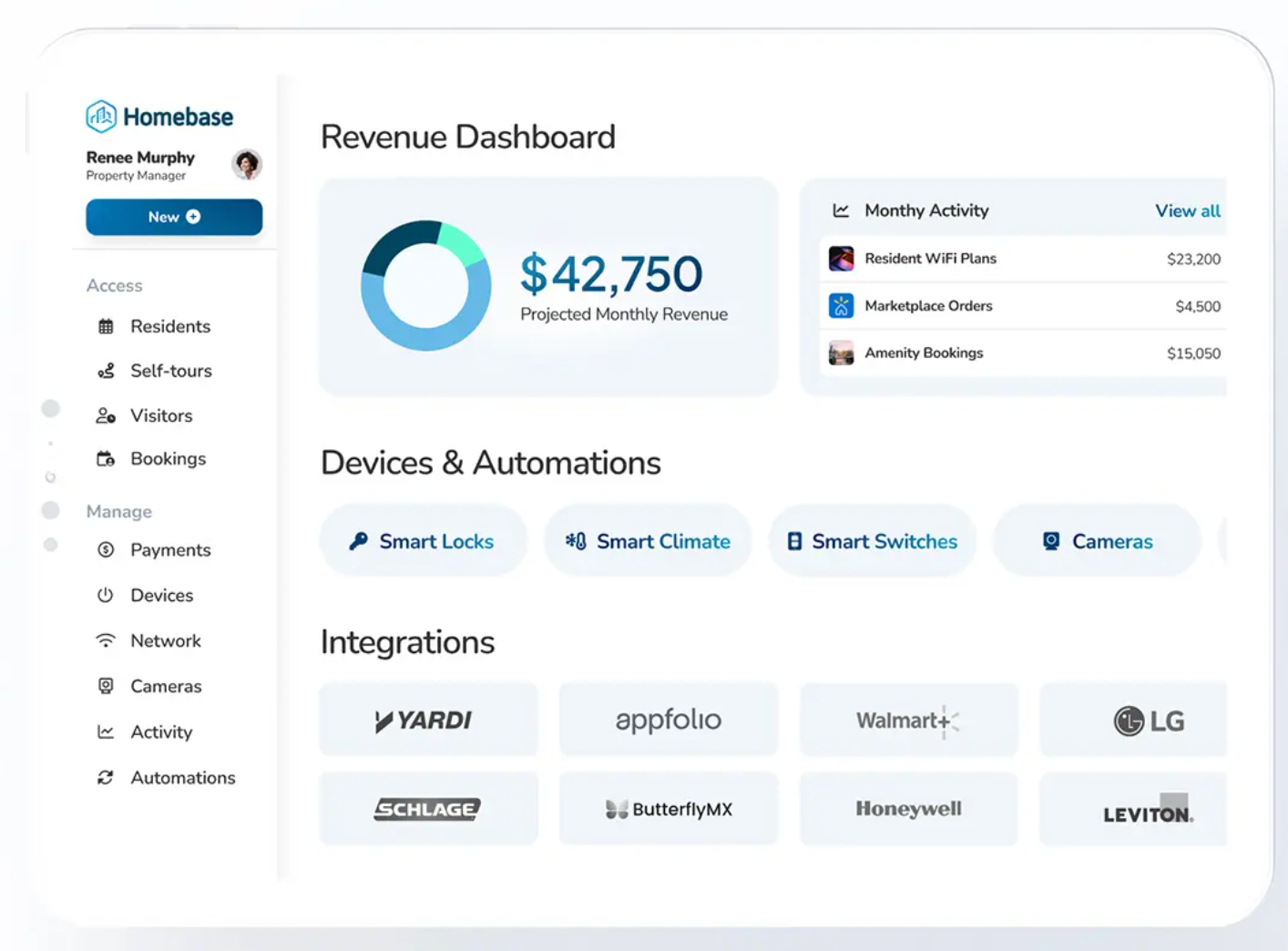 Table of contents
Suggested Posts
Homebase AI also offers digital amenities such as:
Managed WiFi for instant internet access in every unit
Visitor Access for secure, customizable guest access
Self-Guided Tours for prospects to experience digital access to all assigned doors
Services & Deliveries with in-unit deliveries by Walmart+ InHome
Package Management for flexible and secure package room solutions
Parking Solutions to extend access control systems to parking lots and garages
Digital Payments for WiFi, rent, bookings, and more within the Homebase app
Integrations with management tools like Appfolio, Yardi, Entrata, and RealPage
Homebase is trusted by property managers, residents, and owners for its ease of use and ability to generate revenue through various smart building solutions.
Homebase AI Access Control Overview
Access control is essential for maintaining security and convenience in multifamily and mixed-use properties. Homebase AI offers a comprehensive access control solution that integrates an ecosystem of smart devices into one intuitive platform, making it easier than ever to manage access for residents, staff, visitors, prospects, vendors, and deliveries.
How Homebase AI Access Control Works Homebase AI allows property managers to give residents accurate access to their assigned spaces and control their smart devices. The system supports building access, elevator & floor access, amenity space access, unit access, and parking access, making it a flexible and comprehensive solution.
Benefits for Different Stakeholders

Residents: Automate move-ins and enhance convenience.
Staff & Maintenance: Adjust access instantly and increase building security.
Visitors: Send time-bound visitor access in seconds.
Prospects: Enable secure self-guided touring.
Vendors: Provide time-bound entry for services like in-unit delivery.
Deliveries: Access simple and reliable package management.

Complete Customization Design your smart building experience by choosing from Homebase AI's selection of integration partners. From property management software to in-unit services, they offer a convenient solution to fit every need.
Remote Management and Self-Guided Tours Adjust access for residents in seconds and send time-bound access to prospects
Homebase AI Visitor Management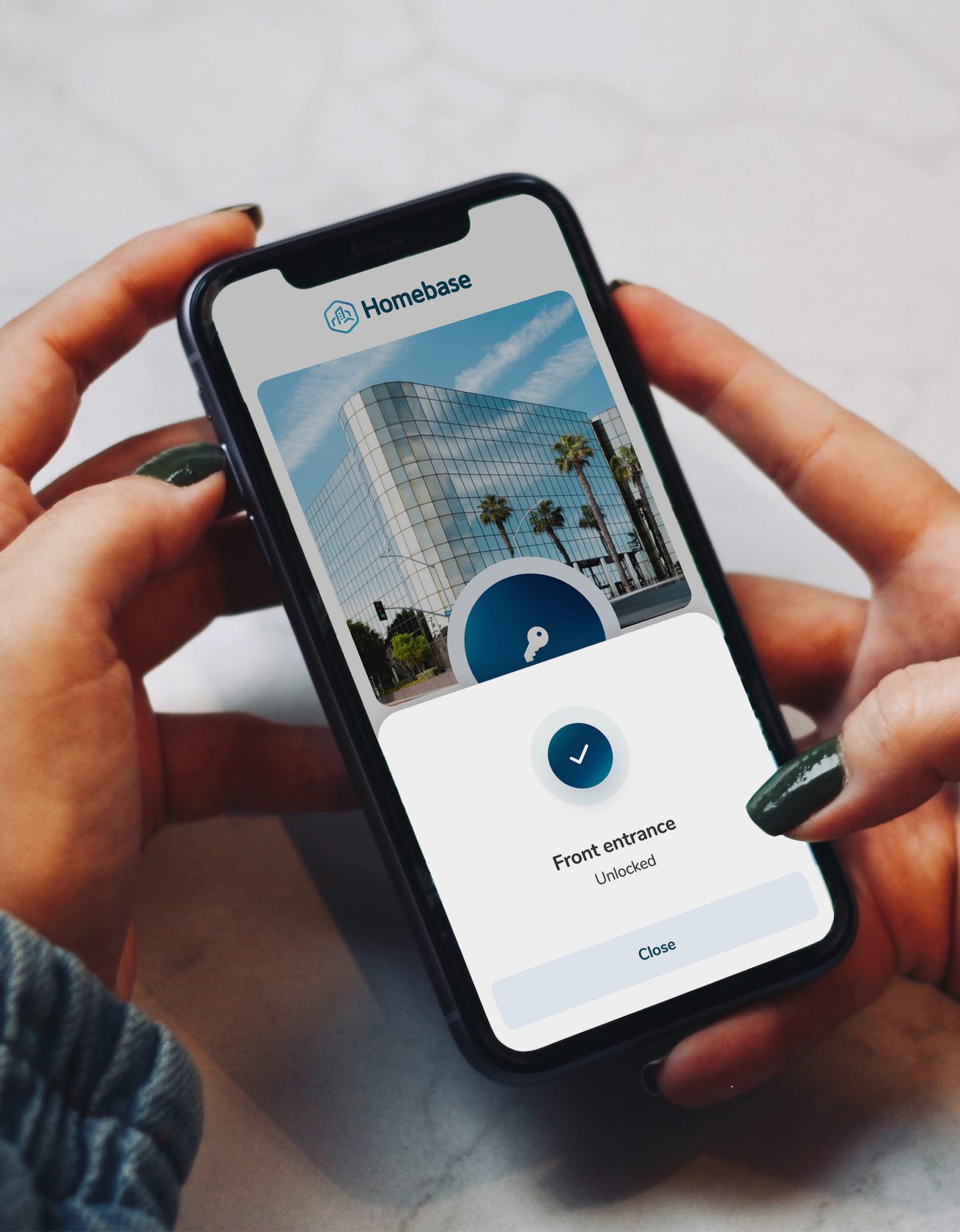 Homebase Visitor Access is a feature that allows property managers and residents to manage guest access securely and conveniently.
Key features include:
Manage guests: Enable access to necessary doors and view real-time visitor logs for added security.
Enable self-guided tours: Allow prospects to book digital tours without requiring an account.
Facilitate vendors: Send digital keys in seconds, providing vendors with seamless access to designated doors.
Optimize deliveries: Configure secure, seamless access for package handlers, food delivery drivers, and other services.
Additional Visitor Access features:
Customize available doors and access start and end times for guests.
Receive visitor logs and notifications for added security.
Allow staff members and residents to create and manage visitor access within the Homebase app.
Grant secure digital access for self-guided tours.
Homebase AI Managed Wifi / Community Wi-Fi
Homebase Managed WiFi is a customizable internet infrastructure solution for communities that offers building-wide, high-speed coverage. It allows property owners and managers to generate revenue by acting as the Internet Service Provider (ISP) for their residents.
Some of the key features and benefits of Homebase Managed WiFi include:
Fiber compatibility with GPON for future-proofing your community's internet.
Customized infrastructure for new construction and retrofits.
Custom CAD designs and expert consultation for optimized network planning.
Private in-unit WiFi with instant high-speed connection upon move-in.
Offices and amenity spaces with private networks for staff and public networks in amenity spaces.
Device networks for smart building connectivity.
Increased revenue with the potential for over $360 per year, per unit earnings.
High-speed connection with speeds of more than 1 Gig and 99.9% uptime.
Industry-leading partners in hardware technology for resident internet, amenity space internet, and outdoor internet.
Managed WiFi can also improve resident satisfaction by providing seamless, reliable internet connectivity throughout the property. Homebase handles customer service, maintenance, and repairs, allowing property managers to focus on their core operations.
Homebase Self-Guided Tours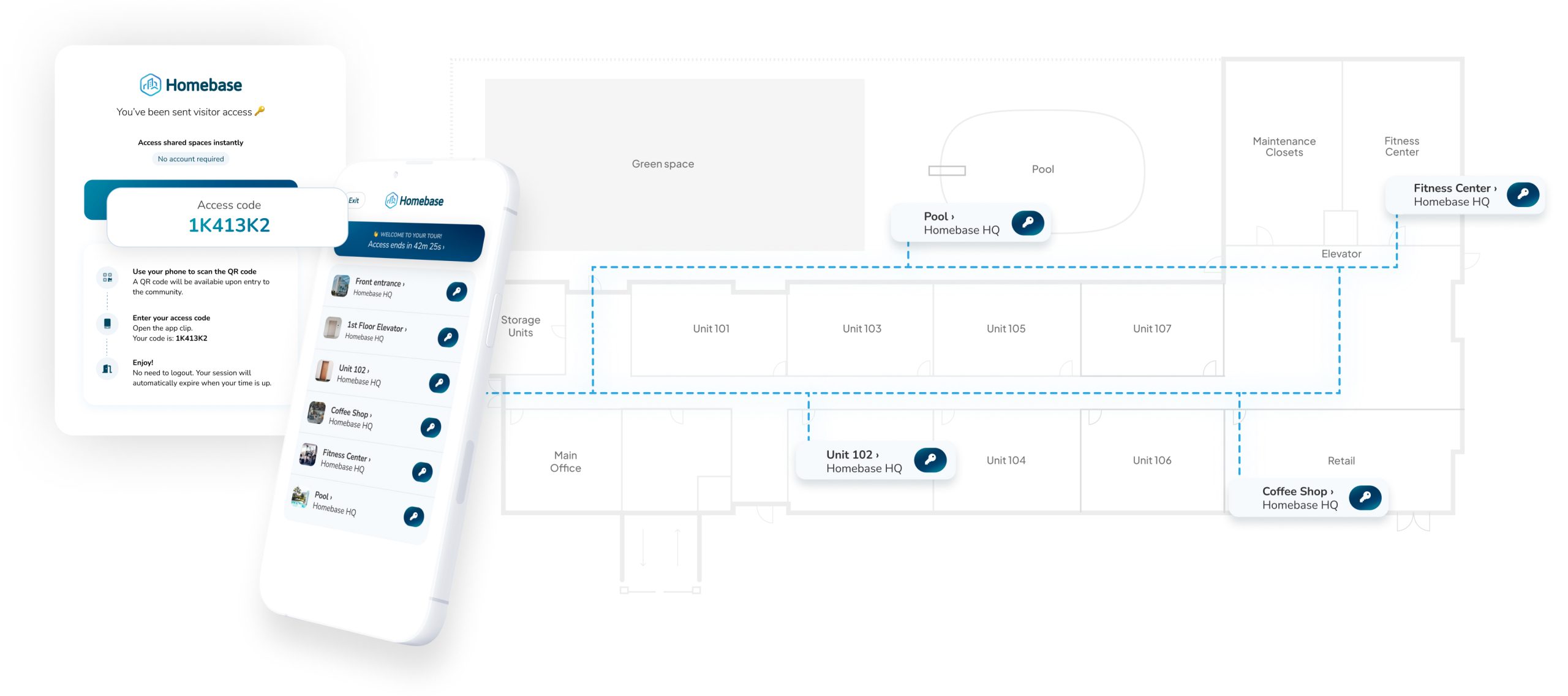 Homebase provides solutions for self-guided tours, access management, and visitor access, offering secure and convenient access for various users.
Self-Guided Tours:
Prospects input their unique access code to access a customized list of doors.
Staff members grant access to vacant units prospects are interested in.
Access to mixed-use spaces and popular amenities is shared.
Access is given for multiple spaces without requiring staff to be onsite.
Visitor Access:
Customize available doors and access start and end times.
Receive visitor logs and notifications for added security.
Staff members and residents can create and manage visitor access within the Homebase app.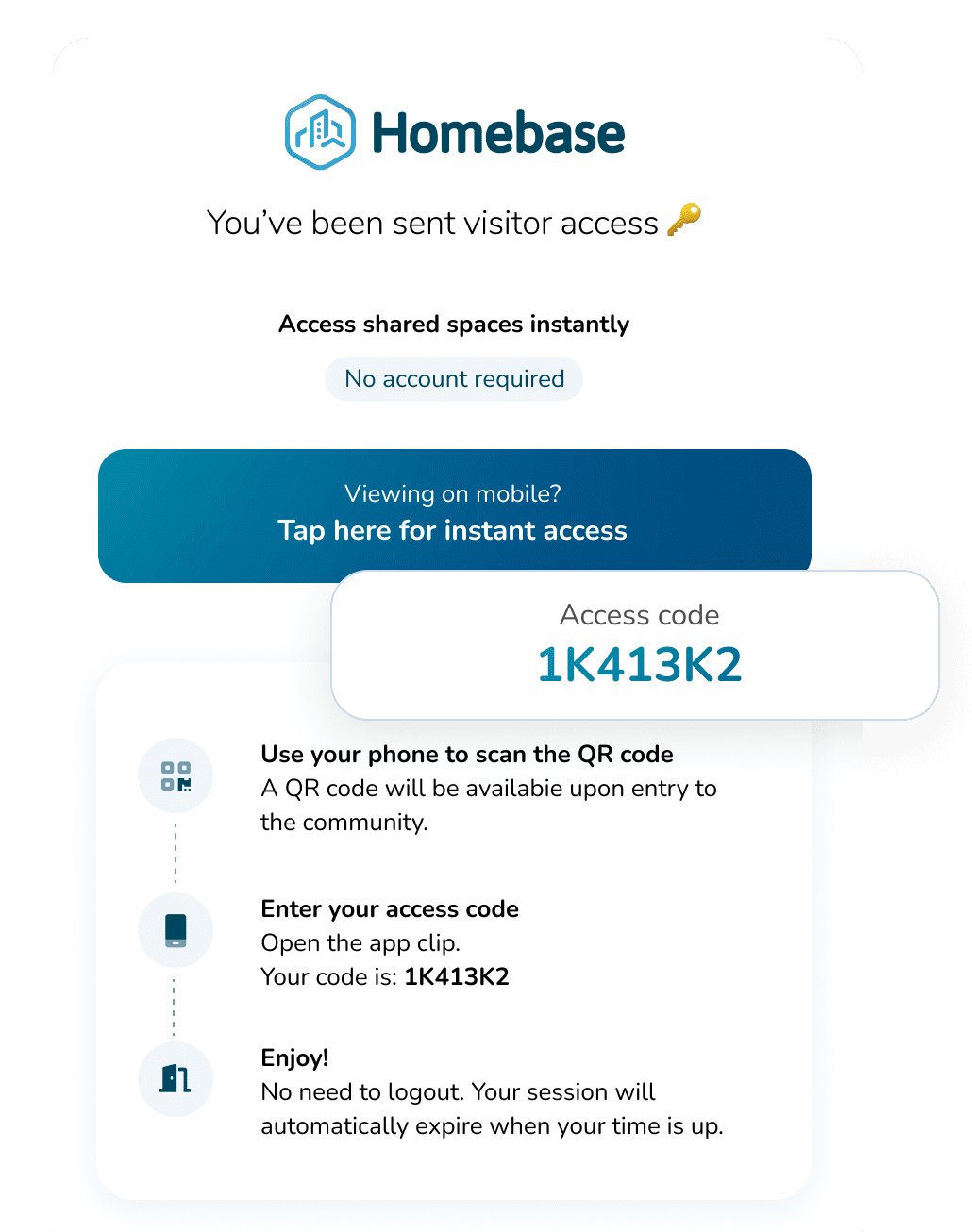 Digital Access:
Allows access management for residents, staff, visitors, prospects, vendors, and deliveries.
Supports remote management and self-guided tours.
Offers activity logs and real-time notifications for increased security.
Supports valuable resident amenities.
Homebase + Walmart In Unit Delivery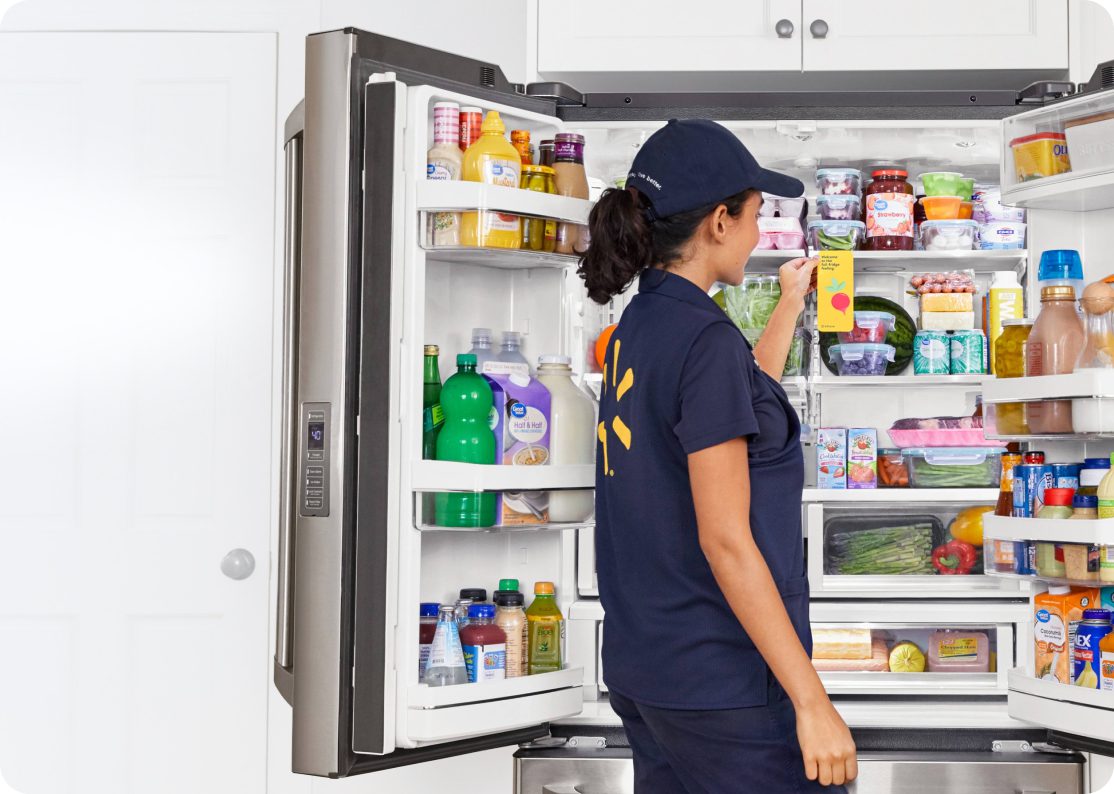 Homebase has partnered with Walmart+ InHome and Eagle Eye Networks to provide valuable amenities and security solutions for multifamily communities.
Walmart+ InHome:
For a monthly price of $19.95, residents can get unlimited deliveries of groceries and prescriptions and have Walmart.com returns picked up directly from their units.
Homebase Access and Walmart+ InHome are integrated, allowing safe and secure deliveries using the unit's smart lock.
Residents order from the Walmart app and select 'InHome Delivery' at checkout.
Trained Walmart associates deliver the orders directly to the residents' units, using one-time access granted by the Homebase smart locks.
Residents can watch the delivery from their phone to ensure safety and security.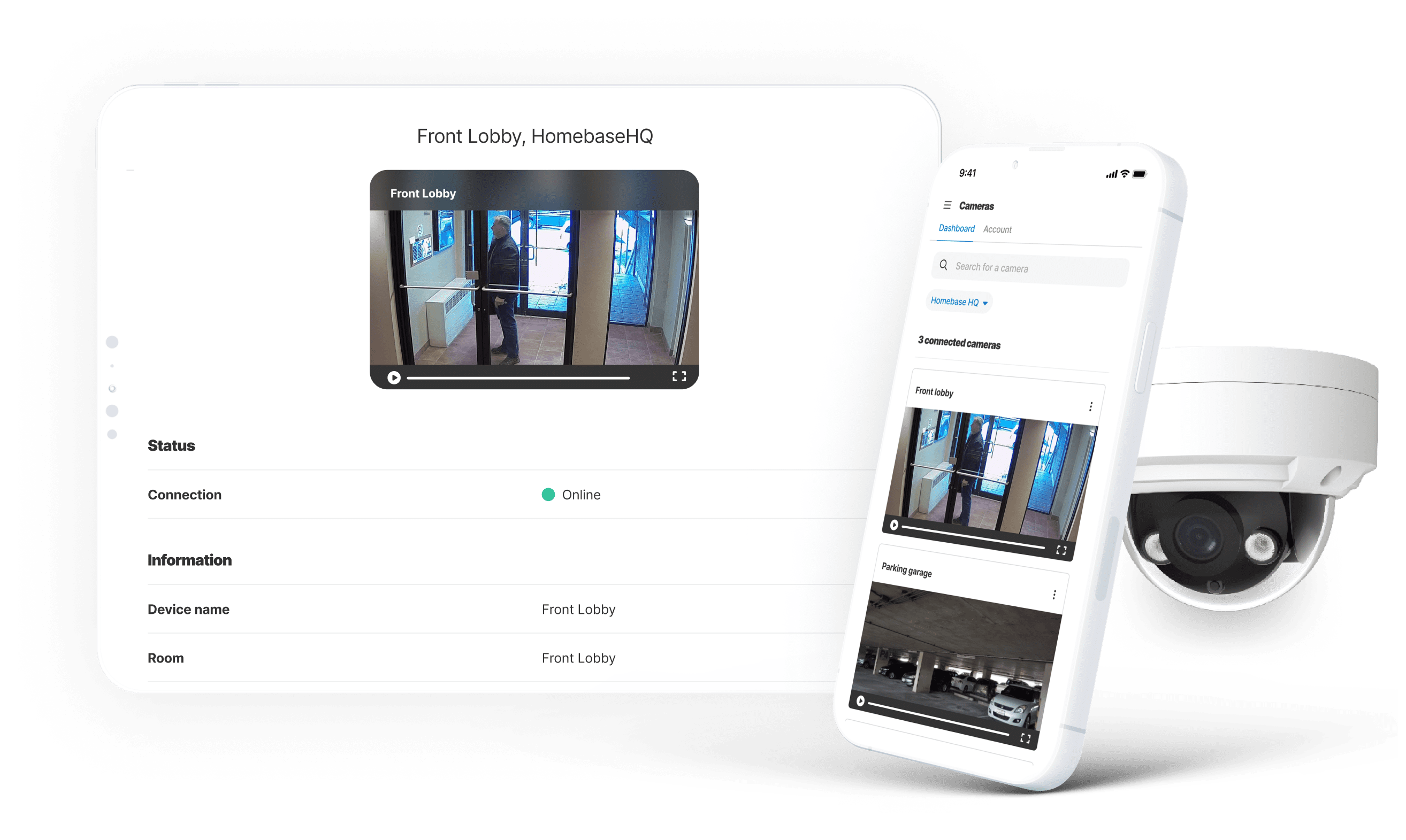 Homebase has partnered with Eagle Eye Networks to provide powerful security solutions for multifamily communities.
The integration allows for easy syncing of all Eagle Eye camera information.
Users can view captured events and play videos or preview hi-resolution images in the Homebase activity log.
Cameras can be linked to specific spaces for cross-referencing important data.
A live feed camera dashboard enables users to view all cameras around their community in one place.
These partnerships aim to enhance convenience and security for residents and property managers in multifamily communities.
Package Management and Parking Management
Homebase offers two management solutions for multifamily properties: Package Management and Automated Parking Management.
Provides secure, tracked, and flexible package delivery and retrieval.
Saves staff time, allowing residents to access package rooms at their convenience.
Package rooms have pin code entry for delivery and resident pickup.
Custom access codes for couriers ensure security and tracking.
Affordable solution with customizable options and remote management capabilities.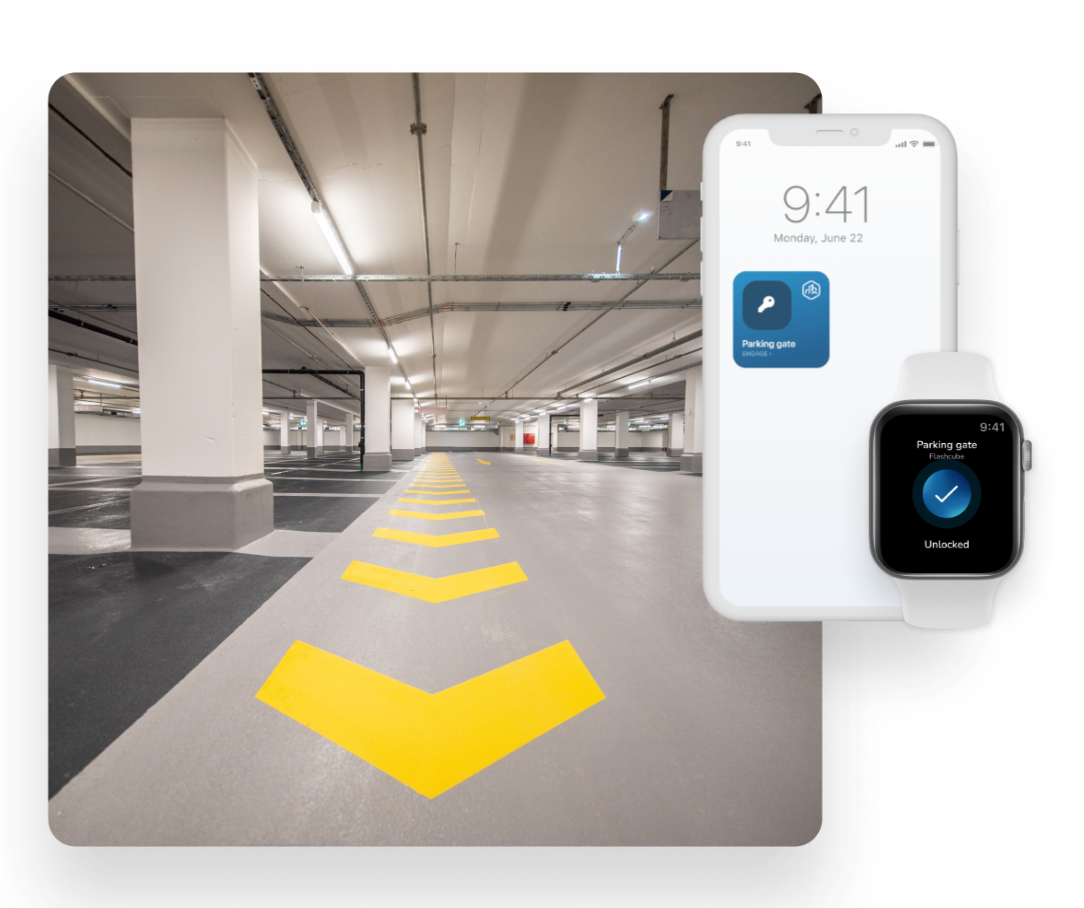 Offers a seamless management experience for community parking.
Integrates with other access points in the community, such as building and elevator access.
Allows remote management of parking spaces using the Homebase Manager platform.
Can be upgraded with full coverage WiFi from Aruba Networks, security surveillance with Eagle Eye security cameras, and centralized access control.
Future-proof technology with license plate recognition (LPR) coming soon.
Both solutions aim to provide increased security, convenience, and efficiency for residents and property managers in multifamily communities.
Homebase AI Pricing
Homebase offers four Smart Building Bundles for multifamily communities:
Access Basic:

Residential Access Control
Up to 20 Common Access Doors
Visitor Management
Self-Guided Touring
Fob Management
Automated Utility Transfer
In-Home Marketplace

Access Pro (includes Access Basic features):

Up to 30 Common Access Doors
Up to 1 Package Room
Up to 2 Parking Gates
Up to 2 Elevator Access
Common Door Contact Integration
Up to 5 Security Camera Access
Instant Space Booking
Payments
Basic PMS Integrations

Smart Building (includes Access Pro features):

Unit Internet & WiFi
1 Guest or Staff Network
Smart Thermostats

Smart Building Pro (includes Smart Building features):

Up to 4 WiFi Private or Public Networks
Lighting Control
Leak Detection
LG Appliance Proactive Care
Premium Support
White Label App
Energy Management (Coming Soon)
You can also customize your own bundle by mixing and matching features from the options above.
Have Questions?
Get in touch with our team to learn more about what Swiftlane can do for you.