Upgrade Your Apartment Building Security
Book a free demo to see how easy it is to upgrade your building. Swiftlane's all-in-one access control and video intercom security system is engineered by experts who are obsessed with creating safe, modern living spaces.

Built to Solve the Security Challenges in Apartment Buildings
Swiftlane's cutting-edge face recognition, mobile access, key card, and video intercom solutions give owners and property managers peace of mind that their investment is protected and tenants are safe. Our all-in-one system creates safe, modern living spaces for tenants and provides the most desirable amenity of all: peace of mind.
Why Swiftlane?
Building owners and property managers are choosing Swiftlane over every other security system because we understand the challenges that multifamily buildings have and we build our product to solve them.
Get Out of the Package Management Business

Relieve your property managers from the burden of  package management with features that provide remote door unlock and temporary visitor access PINs.

Easily Scale and Manage Your Properties

Remotely manage one property or hundreds from a single cloud-based dashboard for easier scalability. 

Instantly Upgrade Tenant Amenities

Offer tenants secure package delivery, smartphone access, video intercom, remote unlock, visitor access, and most importantly – peace of mind.

Offer Contactless Apartment Tours

Win more leasing deals by offering contactless, self-guided apartment tours by scheduling one-time PIN code access.
Solutions for Building Owners
Upgraded Property Amenities
Swiftlane's face recognition access and mobile unlock technology is designed by security experts to safeguard your biggest investments while elevating the building experience

Provide your property managers with a better solution for package management, apartment touring, visitor access, and tenant security

Get the support you need when you need it through chat, email, phone, and certified integrators across the U.S.
Convenient, Accessible Property Data
Swiftlane's platform makes remote management easy for one property or hundreds from a single cloud-based dashboard

Manage properties via mobile app or web-based browser

Detailed reporting provides instant access to property data in order to remain compliant and create tangible ROI 
All-In-One Common Area Security
Swiftlane consolidates common area security by combining access control, video intercom, video surveillance, visitor and package management to support seamless property expansion

Centralize purchasing power with an all-in-one provider for apartment building security
Learn more about Swiftlane's multifamily access control solution. 
Solutions for Property Managers
Remote Visitor Management 
Set up a virtual front desk for off-site management

 Single-use PINs that expire after 5 minutes enable secure, contactless apartment tours for streamlined leasing 

Multi-use PINs can be scheduled during a timeframe you designate to manage access for cleaning staff, contractors, maintenance workers, and more. 
Simple Admin Management
Simple, intuitive interface gives property managers a seamless option to remotely manage properties from anywhere

Traditional on-premise access systems are complicated and require extensive technical training — Swiftlane is simple and easy to learn in 10 minutes

Remotely add or remove tenants via the browser-based dashboard and provide temporary PIN access for maintenance and other vendors — no need to be on site
Seamless Workflow Integrations
Swiftlane offers key card access or integrates with existing key card systems to make upgrading security seamless at entryways, parking garages, and elevators

Our seamless integrations allow you to build the most robust, interoperable property ecosystem

Several property management integrations available
Learn more about Swiftlane Cloud-Based Access Control. 
Solutions for Tenants
Privacy-First Face Recognition Access
Revolutionary face recognition access designed for apartment security

Easy self-enrollment only takes a minute for users

Unique, touchless access control experience promotes hygiene

Simply walk up to the door, look at the reader, and it opens
Reliable Mobile Unlock
Use your smartphone to unlock doors from anywhere

Remotely manage your visitors (dog walkers, food deliveries, cleaning services, etc) using just the Swiftlane app or browser
Multi-Tenant Video Intercom
High-quality, reliable two-way audio and video calling gives tenants control and flexibility for modern apartment living

Uniquely designed and built by in-house software experts to solve visitor and delivery challenges

Remotely unlock doors using mobile app and answer calls from a mobile phone or landline — never miss a delivery again!
Learn more about Swiftlane Face Recognition Access Control. 
Advanced Security Meets Modern Living
How Swiftlane Works for Multifamily Buildings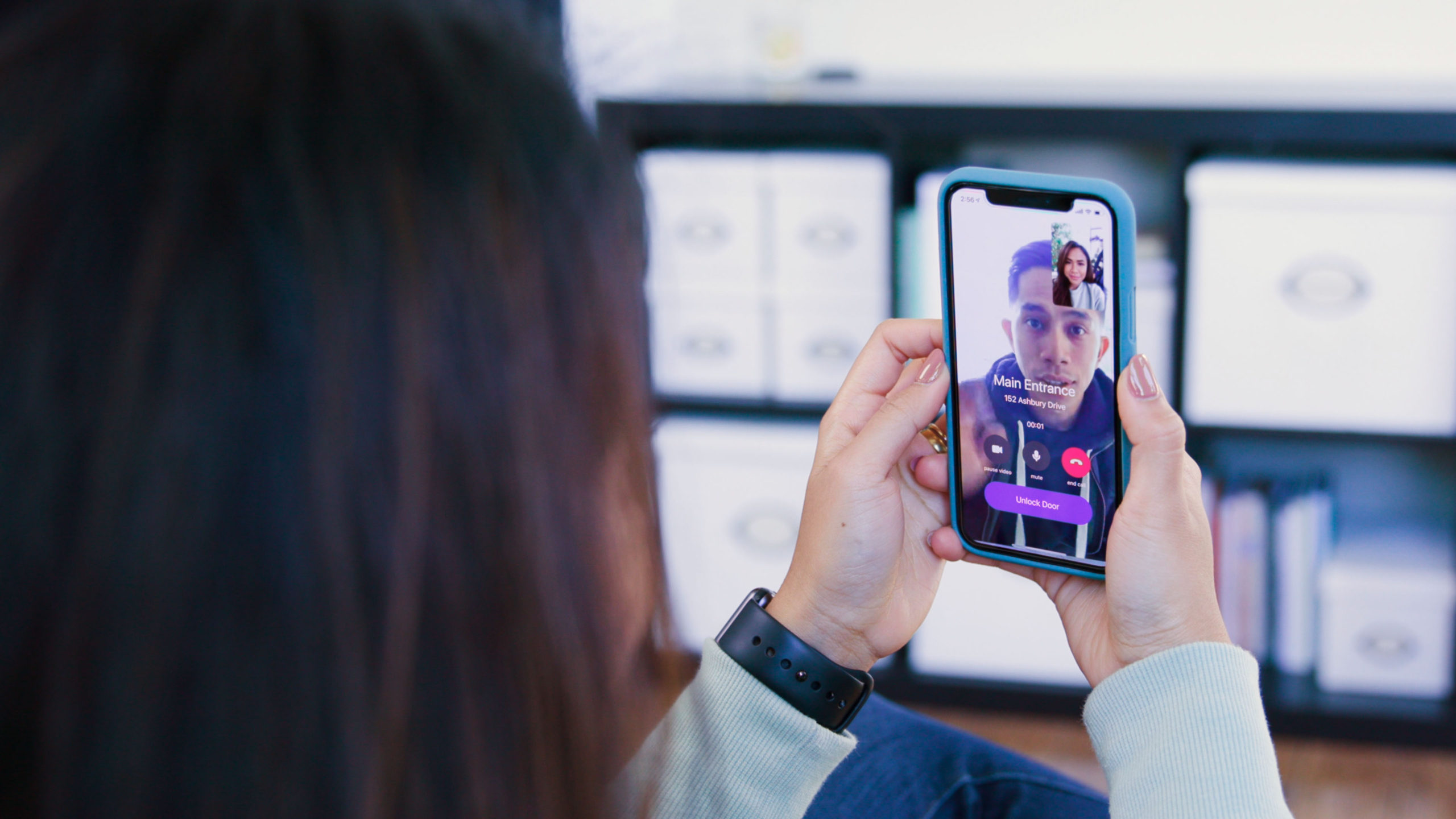 Why We Care About Security
At Swiftlane, we care deeply about creating safe, secure, and modern living spaces. It's our top priority to ensure building owners and tenants have high-quality, elevated experiences. 
We are a team of engineers and creators who saw the problems  with legacy security systems and wanted to develop a better solution. We take a privacy- and security-first approach to everything we do, and our mobile and face recognition access with integrated video intercom system reflects just that.
Unlike standalone access control or intercom systems, Swiftlane offers a complete solution to meet all common area security needs. Plus, all of these devices can be centrally managed in one dashboard that's accessible from anywhere — you never need to be on site to make changes or product updates. 
Not only does Swiftlane close the gap by solving problems that legacy systems are not equipped for, it gives tenants what they need and want: secure, modern apartment living. Swiftlane is the intelligent security system that tenants are looking for because it was designed to solve real security issues and create an elevated, seamless living experience.
Get in Touch
Contact a Swiftlane Specialist for a free quote or demo, or if you have any questions about how Swiftlane can fit into your property!