Designed for Security
Swiftlane Video Intercom for offices is built on a security-first principle, and our sleek, modern hardware reflects just that.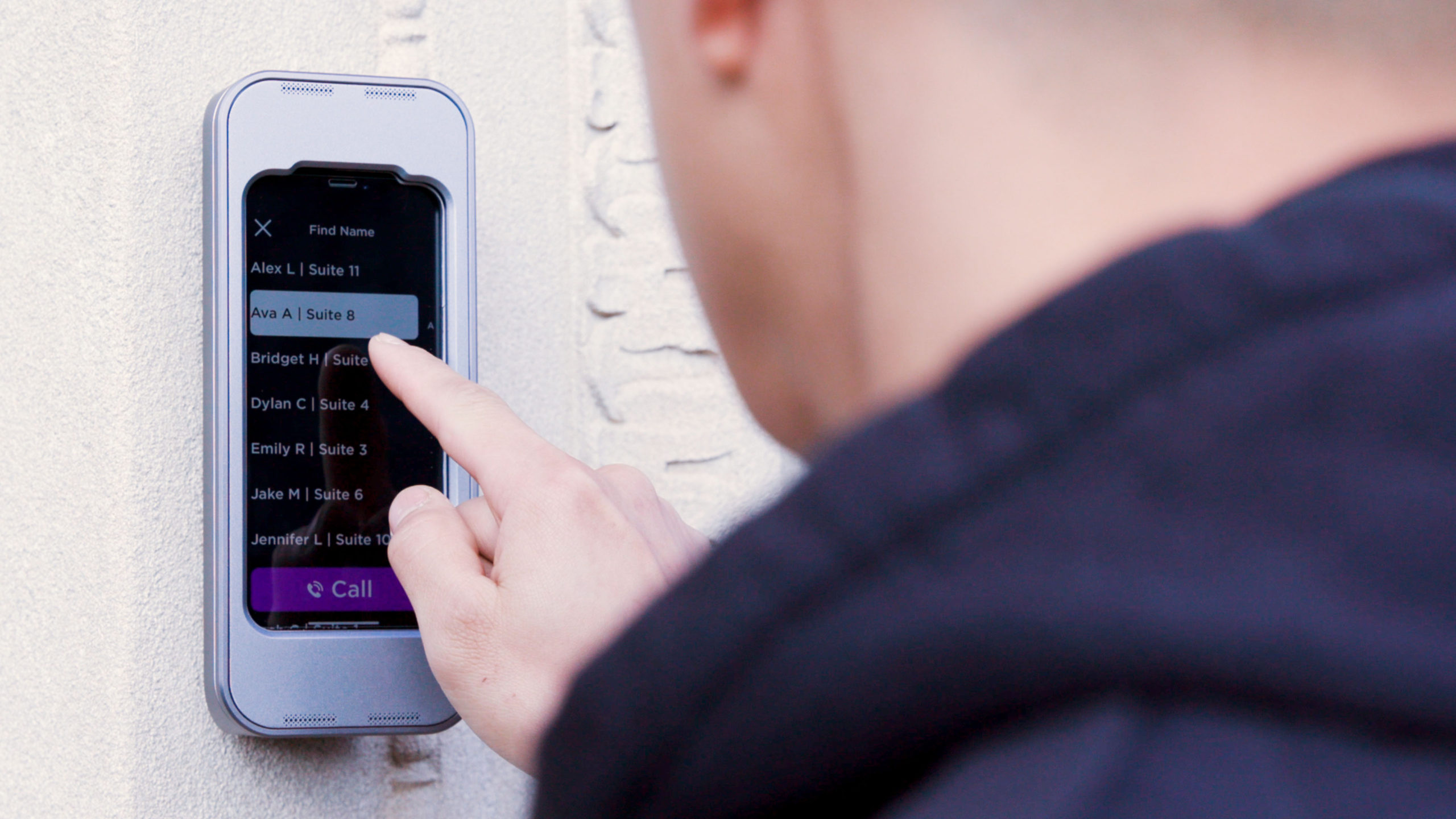 Beautiful Touchscreen Intercom
Swiftlane's stunning hardware complements building aesthetic, and is versatile enough to install in any environment. The Swifltane is also designed and reinforced for vandal protection resistance and is IK07 impact rated.
Solve All Your Problems With a Single, Centralized Product
01.
Secure Package Delivery
Deliveries to offices often include important, confidential information meant only for those within the business. Secure every office delivery with two-way video calling and remote unlock from your smartphone or wherever you use the Swiftlane App.
02.
Easy Visitor Management From Anywhere
Remotely unlock doors for verified visitors and important deliveries from your office — or from anywhere if you are out of office.
03.
Operational Efficiency
Boost operational efficiency by reducing the burden of tedious and time consuming visitor management responsibilities. Configure multiple admins and receptionists, in order to provide detailed coverage for large sites, or redundancy in case one person is busy.
04.
Cost Effective Installation
Fast, low cost installation via Power over Ethernet, and no large setup fees. Works with existing key card systems and includes battery and cellular backup options.
05.
Cloud-Based Dashboard
Watch real-time access activity and visually verify every entrance from a browser-based dashboard interface. Identify anomalies and immediately investigate security issues.
Receive Incoming Intercom Calls With Any Device
Swiftlane allows user to answer intercom calls and remotely unlock doors via mobile phone, tablet, computer, and landline phones.
Cloud-Based Admin Dashboard
01.
High Security Access Feed
Review the access activity feed with a photo-based verification screen.
02.
Detailed Visitor Permissions
Ensure different categories of users can have different levels of access permissions based on doors, schedules, etc.
03.
Easily Manage Multiple Doors and Offices
Manage access points and credentials for multiple properties under one platform. 
04.
Commercial Multi-Tenant Intercom Directory
Remotely change or update tenant list for commercial multi-tenant intercom